How To Get Satellite View On Google Maps Android
🕐 1 Jul 23
Google Maps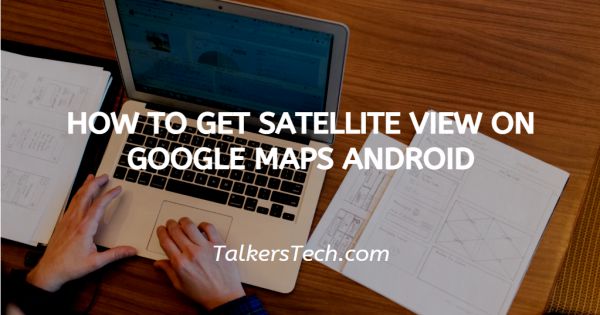 In this article we will show you how to get satellite view on google maps android, the feature of satellite view is from the beginning since they launched the Google Map service. This feature is really helpful in order to see the real-world top-down view of any location.
Users enabling this feature in Google Maps must know that it requires more data as compared to the minimal view of maps.

Google Maps help you to get the data about geographic location and provide aerial view along with satellite view. The application of Google Maps provides you with 3 types of maps named default, satellite, and terrain.

It enabled this feature of satellite view during the navigation turn-by-turn. However, the procedure for getting the satellite view is distinct on android and iPhone.

In this article, we will particularly talk about how you can get the satellite view on Google Maps on your Android smartphone.
Step By Step Guide On How To Get Satellite View On Google Maps Android :-
Open the application of Google Maps in your Android smartphone.
At the top of the search bar, you will see your profile picture or a display photo with your initial at the top right corner.

Click the icon and a drop-down menu will appear on your screen.
The drop-down menu will show you your email ID, name along with various options like turn on Incognito mode, your profile, your timeline, Location sharing, offline maps, add your business, your data in maps, settings, help, and feedback.
Click the option of settings from the drop-down menu.

After clicking this option A setting page will display on your screen. Here you can change settings for app language, offline maps setting, Wi-Fi only, edit home or work, pinned trip settings, Google location settings, personal content, location accuracy tips, map history, notifications, distance units, start map in the satellite view, show scale on the map, navigation settings, manage your preferences and other options.
Scroll down and look for the option to start the map in satellite view.

You need to activate this option by tapping the toggle switch towards the right.

The toggle switch will appear as blue after activating the option of start map in satellite view which also informed that this uses more data.

Now Google Maps will appear as a satellite view whenever you open it in the future.
Conclusion :-
I hope this article on how to get satellite view on google maps android helps you in this article, we have covered an essential guide.

If you are a fan of watching the satellite view and want to see e your nearby localities and other location in Google Maps, now you can easily turn on this type of map to enjoy the view of the satellite.

The steps mentioned above are quite detailed along with pictorial representation.