How To Get Paytm QR Code
Last Updated : Dec 6, 2022
IN - Paytm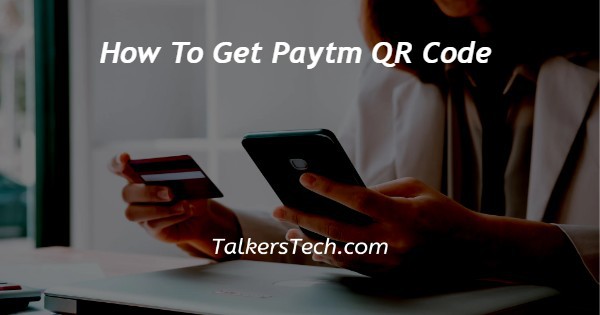 In this article we will show you the solution of how to get Paytm qr code, users can easily get their Paytm QR code once they activate their Paytm business account.
Paytm users can share and download this QR code from the Paytm business application available for Android and iOS users.
In case you are looking for a solution on how to get a Paytm QR code this is the right article for you just follow the steps given below in order to get Paytm QR code.
Step By Step Guide On How To Get Paytm QR Code :-
Open Google Chrome or any other browser on your PC.
In the search bar type Paytm business.
Now click on the official website of Paytm business.
Click on get your Paytm QR code if you haven't registered for a Paytm account then click on signup and enter your mobile number and password.
If you are already using a Paytm account or merchant Paytm account click on login and type in your mobile number or Email ID and password.
It will take you to the account activation page.
Choose the value in the select payment option..
Here you will see different solutions for all the merchants.
If you want to accept Paytm on mobile app or website then choose the first icon, if you have a shop then select the second icon.
For example, you have selected the payment solution for accepting payments in your shop or retail store.
After selecting the payment solution you need to enter the business details for retail store.
In the business details it will ask you to enter your shop name, business category, e-business subcategory, address, pin code, City, state, describe your business.
After entering all these details click the option next placed at the bottom of the screen To successfully generate Paytm QR code
On the next screen you will see your QR code along with the name of your business.
At the bottom of it you will see two options called download sticker and print sticker.
Conclusion :-
In this article we covered an essential guide on how you can get Paytm QR code on Android device and now you can easily generate Paytm QR Code by using its official website.
With the help of QR code you can easily accept all the mode of payment including UPI wallet and Paytm postpaid.
QR Code Act as a single point reconsideration for all your payment. you can easily install the Paytm for business application and get your All-in-One QR code for free.
I hope this article on how to get Paytm qr code helps you and the steps and method mentioned above are easy to follow and implement.