How To Get LinkedIn Profile Link
🕐 1 Jul 23
Linkedin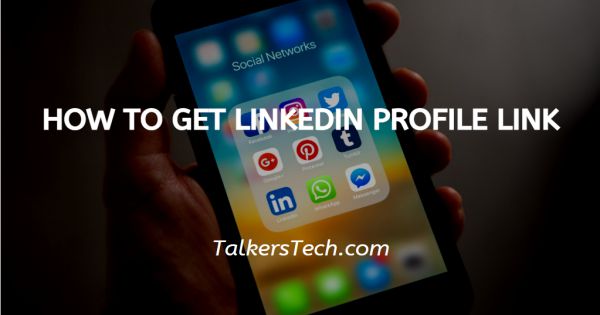 In this article we will show you how to get LinkedIn profile link, In the era of social media, networking has become a crucial skill. It helps one not only share our comprehensive and detailed resume and profile with others but also brings us closer to getting our dream job!
It stands for Unique Resource Locator. In simple words, it is the unique address of a given unique resource like HTML, a CSS document, an image, etc.

It is used by browsers to retrieve published resources online.
Step By Step Guide On How To Get LinkedIn Profile Link :-
Open your LinkedIn account on the website by logging in with your details or the app. On the top right corner of your homepage, click on the 'ME' icon with your profile picture. This will open a dropdown list; select the 'VIEW PROFILE' option.

On your profile, the URL bar on top of the page will display your unique URL or the link of your LinkedIn profile.
LinkedIn also gives its members the option of changing or editing their URL or link. The following steps demonstrate how this can be achieved.
Open your LinkedIn profile as explained in the step 1 and 2 above.
On the right hand side of the page, select the 'EDIT PUBLIC PROFILE & URL' .This will lead you to a new tab. In this section, you will be able to see your current URL address of your profile.

Enter the URL you wish to change for your profile. The website will run through its database to check for its availability and uniqueness once you press 'SAVE' button at the bottom.

The website will notify you if the proposed URL is accepted or you need to modify it. The success of the editing will be notified once the process ends.
There are certain things you have to remember while using your URL address on LinkedIn:-
The URL will appear only for public profiles.
If you change the country listed in the details of your profile, your public profile URL will change too, however this would not disrupt the operations of your previous URL.
The process of editing or customizing your LinkedIn URL is called.
Your customized URL must have 5-30 letters or numbers. Avoid using spaces, symbols, or special characters.
You can edit the URL of your LinkedIn profile up to five times within six months.
The part of the URL which is customizable is case insensitive.
Use a combination of your name, date of birth and/or your professional brand since you'll share this URL with people, so they can find your LinkedIn profile. Your LinkedIn profile URL might also be asked for by recruiters or employers in your application to some jobs.
Conclusion :-
I hope this article on how to get LinkedIn profile link helps you to understand and make use of your LinkedIn profile URL address!