How To Get Disney Plus With Verizon
Last Updated : Apr 13, 2022
IN - Disney Plus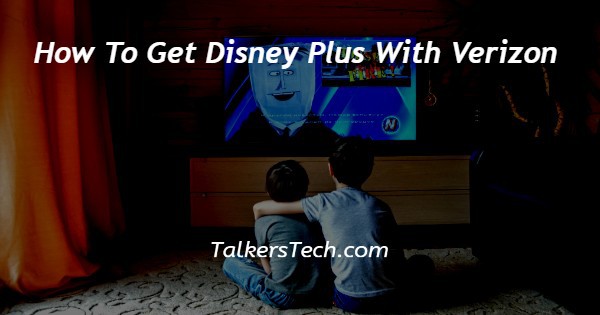 In this article we will show you how to get Disney plus with Verizon, in case you are a Verizon customer in the United States and Mexico you can easily get one year of Disney plus subscription for free.
It is also available for the users who swap to 5G home internet. The plans offered by Verizon include unlimited plan, go unlimited, beyond unlimited, above unlimited, play unlimited and start unlimited.
Plus content is available in various languages such as English, Spanish and Dutch friends and others.
It also streams in the resolution up to 4K Ultra HD and HDR 10. users get the benefit of watching original scripted and non-scripted content.
In case you are looking for a solution or how to get Disney plus with berries on, this is the right article for you.
Step By Step Guide On How To Get Disney Plus With Verizon :-
First you need to register for my Verizon account in case you do not have it.
When you are registering for the very zone account make sure you are using the 5G home internet network on fios.
Remember to use the similar email address for registering your worries on the account that you have used while getting the Disney plus subscription.
After logging into your new my verizon account for an existing one, you will automatically receive an invitation to get your 12 month Disney plus subscription.
However, in case you do not see the invitation of the pop of banners, simply open the add-ons and click the entertainment section.
From the entertainment section tap get Disney Plus.
After getting the Disney Plus application you need to sign up to your Disney Plus account.
The Twelve month duration of the Disney plus subscription will begin right after you accept the terms and conditions.
It does not start when you have completed the spinning procedure for Disney Plus.
Using My Verizon Application
Open my verizon application on your phone.
You need to sign into your verizon account in case it does not log you in.
After successfully logging in to your account, click the menu button placed at the top left corner of the screen.
From the menu button click the add-on option.
Locate the disney plus application from the entertainment section.
After searching for the disney plus application tap learn more.
The learn more section will display the terms and conditions of the offer.
You need to tap enroll to proceed further.
Press confirm and then continue to login to the disney plus page.
Conclusion :-
I hope this article on how to get Disney plus with Verizon helps you and in this article we covered two methods through which you can get Disney plus with Verizon and the steps mentioned above are quite detailed and easy to follow and implement.