How To Get Disney Plus On Vizio Smart TV
Last Updated : Apr 13, 2022
IN - Disney Plus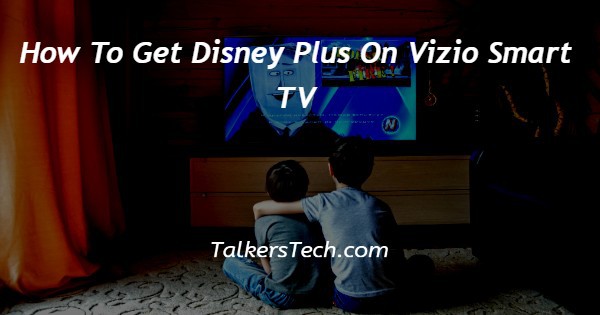 In this article we will show you how to get Disney plus on Vizio smart TV, unfortunately this online streaming platform is not directly available on the vizio smart TV but now the Disney + application is available on vizio smart cast TV that include built-in applications.
In order to enjoy Disney Plus on your vizio smart TV you must use the smart cast platform with built-in application.
Which is the latest interface you do not need to download the app from App Store.
You can easily see the applications on the screen once they are released.
As long as your TV is operating on a smart card with applications the Disney Plus app will display on your screen when it is connected to the internet.
In case you are looking for a solution On how to get Disney Plus on vizio smart TV this is the right article for you.
Step By Step Guide On Disney Plus On Vizio Smart TV :-
By Using Normal Way
Press the V button from the remote.
On the home screen under application you will see various acts on your vizio smart TV such as Netflix, Hulu, Prime video, Disney Plus and others
Now search for and click the Disney Plus application placed at the bottom of the screen.
Now you need to log in to your Disney Plus account by entering your valid email address along with password to proceed further.
Now you can easily stream your favorite content on Disney Plus.
By Using Apple AirPlay
In case you do not have the latest version of the vizio smart TV you can still sign up for Disney plus by using other devices such as firestick Apple TV Google Chromecast and others.
First sign up for Disney plus by entering your details.
Now you need to install the Disney plus iPhone/ iPad application.
After successfully installing the Disney Plus app application you need to log in to your Disney Plus account by using your credentials such as valid email address and password.
Now you need to remember to connect your smart TV with the similar Wi-Fi network you are using for your iPhone/ iPad.
After it connects both the devices with a similar Wi-Fi network, start streaming the content in the Disney Plus application on your iPhone/ iPad and tap the airplay icon.
Select your smart TV from the list of compatible devices and it will automatically start streaming the Disney Plus on video Smart TV.
Conclusion :-
I hope this article on Disney plus on Vizio smart TV helps you and the steps mentioned above are detailed and easy-to-follow and implement.