How To Get Disney Plus On Sony Smart TV
🕐 1 Jul 23
Disney Plus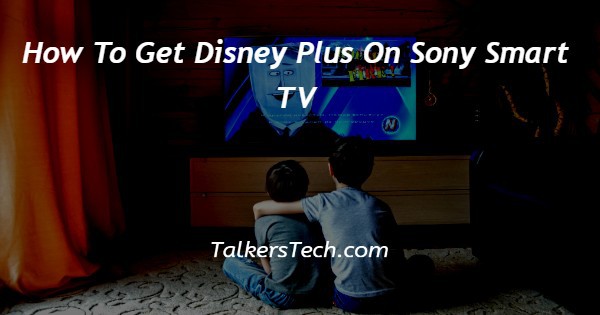 In this article we will show you how to get Disney plus on Sony smart TV, Disney Plus is mostly available on smart TV like LG, Sony, and Samsung. Disney plus has gathered millions of subscribers in recent years and is still expanding.
It includes the entire Disney family along with marvel, Star Wars, and Pixar. the cost of the Disney plus subscription is affordable.
It is one of the best video platforms for showing movie series and other documentaries. now users can see all the mind-blowing documentaries and other content directly to the Sony smart TV by installing the Disney Plus application.
Disney plus has done a wonderful job of providing the features not only to smartphone and computer users but also to various types of Smart TVs including sony smart TV.
Sony Smart TV uses the Android TV operating system in order to manage the streaming application.
It is a simplified version of the mobile platform. you can use the Play Store in order to get Disney Plus on Sony Smart TV.
In case you are looking for a solution on how to get Disney Plus on Sony Smart TV, this is the right article for you.
Step By Step Guide On How To Get Disney Plus On Sony Smart TV :-
Open Google Play Store from the menu of Sony Smart TV.
In case you are opening or accessing it for the first time, you need to first accept the terms of service.
Press continue to proceed further.
Now search for the magnifying glass placed at the top left corner with your remote and click it.
Now in the search bar, you need to type Disney Plus.
The Disney Plus application will appear on your screen.
Click the application and it will display its information overview and other options in a horizontal menu.
Click the option install from the horizontal menu.
Now tap install and wait for a few moments until the Disney Plus application is downloading and installing.
After it is successfully installed select launch to open Disney Plus on your Sony smart TV.
In the final step, you need to log in to Disney plus by following the prompt that will appear on your screen.
In the login popup box, you need to enter your Disney plus credentials and now you can easily stream movies documentaries, and your favorite TV show without any limitation.
Conclusion :-
I hope this article on how to get Disney plus on Sony smart TV helps you and, in this article, we covered an essential guide on how you can get Disney Plus on Sony Smart TV.
The content provided by Disney Plus is impressive and it also on numerous companies including Hulu, ESPN+ and others as Sony TV utilizes the Android TV operating system it is an easy installation procedure. The steps mentioned above are detailed and easy to follow.