How To Get Disney Plus On Older Samsung Smart TV
🕐 1 Jul 23
Disney Plus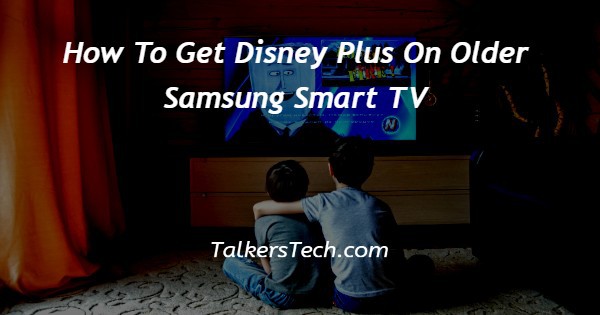 In this article we will show you how to get Disney plus on older Samsung smart TV, Disney Plus is compatible with many Samsung TVs which are manufactured in 2016 or later. however, if your older Samsung Smart TV is not compatible with Disney plus you can always use a streaming device such as Roku Amazon Fire TV, or Chromecast.
These streaming devices help to link the television via HDMI and offer you the accessibility to watch Disney Plus and enjoy its benefit.
In order to connect the streaming device to get Disney Plus on older Samsung Smart TV make sure you have a stable internet connection and your smart TV is operating at the latest edition.
In case you are looking for a solution on how to get Disney Plus on older Samsung Smart TV this is the right article for you.
Step By Step Guide On Disney Plus On Older Samsung Smart TV :-
First, you need to plug your Chromecast into your Samsung TV HDMI port.
Now You need to plug one end of the USB cable into the Chromecast and the other end of the cable into a wall adaptor.
After plugging the wall adaptor, launch your Samsung TV.
Now with the help of a TV remote, you need to select the similar HDMI port where you connected your Chromecast.
Connect your Chromecast and smartphone to a similar Wi-Fi connection to set up the device.
Now you need to download the Disney Plus application on your Android smartphone or Tablet.
After successfully installing the application on the device open the application and use your Disney Plus account credentials to proceed further.
You need to enter your valid email address along with your password to successfully log into your Disney Plus account.
Now you need to select your older Samsung TV device from the list to connect.
After connecting you can finally select a video and start playing to cast the Disney content on older Samsung Smart TV's.
Conclusion :-
I hope this article on Disney plus on older Samsung smart TV helps you and in this article, we covered an essential guide using Google Chromecast there are also other external devices that you can use to get Disney Plus on older Samsung Smart TV such as Roku Apple TV on Amazon fire Sticks.
You just need to spend a little money to get these devices and a stable internet connection to operate them without any difficulty. the steps mentioned above are quite detailed and easy to follow.