How to freeze last seen on WhatsApp
🕐 1 Jan 23
Whatsapp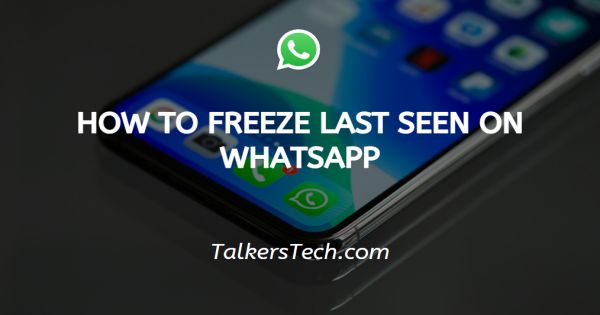 Now WhatsApp is a very popular app all around the world, its feature also impress anyone and day-by-day WhatsApp is growing with their plane and features one of the very interesting features In this article we will discuss how to freeze last seen on WhatsApp.
The majority of the people have hide or freeze their last seen because of some personal reason like love and fight. So, we decided to make people aware of this feature, using this feature you can show backdated older WhatsApp last seen time to your friends and others.

But the disadvantage of this feature is that if you freeze or hide last seen, you will not be able to see your contacts last seen as well, which is not like by the WhatsApp users.
How can you freeze last seen on WhatsApp?
Here, we discuss to all WhatsApp users how quickly you can freeze you last seen option on WhatsApp and fool their contacts, so first you need GBWhatsApp because the ordinary WhatsApp does not have this feature, so you don't want your contacts to see if you are online or not, while in fact you are online?, you can also seen your contact's original last seen by following this steps:
First you have to install GBWhatsApp+ apk app on your phone, (it's a modify version of WhatsApp and it is required to replace the existing official WhatsApp to freeze or hide last seen).
Then open the GBWhatsApp and click on the menu and go to the setting.

After that many options will be opened on mobile screen you have to select privacy option.

Under the privacy option you will see "hide online status option", just tap on it.
After tapping on the hide option, the mod version of WhatsApp will record that timing, and this timestamp will appear as your last seen to all your contacts.
Finally your last seen option will be freeze for your contacts.
Conclusion :-
If I talk about GBWhatsApp apk app, it's a modify version of WhatsApp and in this version you can see very interesting features such as: not only freeze last seen feature but also include blue ticks, second tick writing status, recording and blue microphone with which a user can customize their life without any hassle.

This is the way where you can easily freeze last seen in your WhatsApp, Hope this article on how to freeze last seen on WhatsApp helps you.