How To Format A Resume In Google Docs
Last Updated : Dec 7, 2021
IN - Google Docs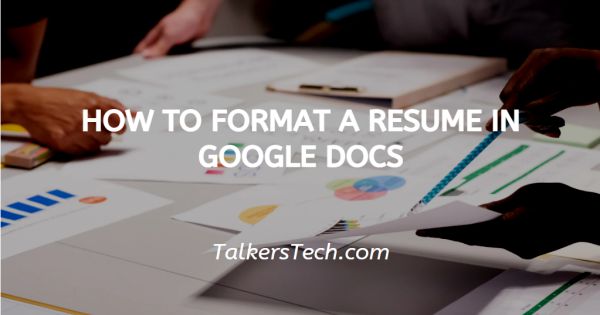 I hope this article on how to format a resume in google docs helps you a resume plays a critical role when you are looking for a Job. It helps you to present your skills, experience, and qualifications to the employer.
Your Resume contains the total information about your education and work experience. It also includes your achievements, projects, and awards. Your resume is the first thing an employer notices so you must tailor it according to the job description.

There are many ways to create resumes, You can use free templates available online or you can create one for yourself using a word processor.

If you want to create a decent resume in less time then google docs might just be the solution for you. It has various resume formats available that you can use. We will also give you some tips on how to create a proper resume to increase your chances of getting hired.
Step By Step Guide On How To Format A Resume In Google Docs :-
Google Docs offers a variety of templates using which you can easily create a resume. All you need to do is fill in your details in the required space and you are good to go. Given below are the steps using which you can format a resume on Google docs:
Open Google Docs by searching for the same in your web browser. Google Docs can also be used on Smartphones and tablets, You can access Google docs on your Smartphone or Tablet through the Web browser and also by downloading the app from the Playstore or Appstore.
If you want to edit an existing document then login to your google drive and select the document you want to edit from there.
After opening google docs proceed to the template gallery and choose a template you like.

Now you will need to fill in your details in the resume. The resume will already have the common sections such as Name, Experience, Education, skills, Achievements and, Awards.

Once you are done filling in the details proceed to save the resume. You can make various copies of the resume. Your resume will be saved in Google Drive and you can easily download it from there.
Tips To Improve Your Resume :-
1. Customize Your Resume
People create one resume and then use it to apply for all the Jobs. This doesn't work because every job has a different requirement so you must tailor your resume according to the Job description. This increases your chances to get noticed by the hiring manager.
2. Add Skills And Certifications
The more skills and certifications you have the more likely you will get hired. You can learn skills and get certificate for them online. Platforms like Coursera and Udemy offer many online courses that you can opt for.
3. Share Your Resume With Others
It is a good idea to share your resume with your friends and family to get their feedback. You can also ask them to make necessary changes to your resume.
Conclusion :-
Google Docs offers a variety of formats that you can use to make your resume. It is easy and saves a lot of time. I hope this article on how to format a resume in google docs helps you.