How To Find WhatsApp Backup On Google Drive
🕐 1 Jul 23
WhatsApp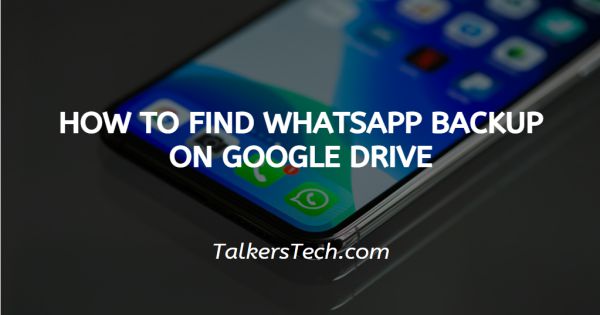 In this article we will show you how to find WhatsApp backup on google drive, WhatsApp is one of the most popular tools of communication these days. In order to protect your WhatsApp data it is important to make a backup of all your WhatsApp messages media and documents.
Google Drive helps you to provide a proper solution for backing up the WhatsApp data. In Android the backup of WhatsApp is stored on Google Drive and it can be restored once you switch to another phone and want to get your old chat back.

Your WhatsApp backup is not stored in an ordinary folder in Google Drive. It is well hidden out of plain sight. You cannot find WhatsApp backup files from Google Drive directly.

This is because all the WhatsApp conversations are end to end encrypted once they get backed up on Google Drive.

In order to find your WhatsApp backup on Google Drive make sure you have already made a backup for your WhatsApp data. In order to do this visit the app setting, click on chats, the option of chat backup and click on the option of backup.

You need to make sure that your WhatsApp registered number is linked to your Google account which is active.

Before moving forward, make sure that you need to open Google drive from your browser and not the ordinary Google drive application on Android.

After doing so, follow the steps given below in order to find your WhatsApp backup on Google Drive.
Step By Step Guide On How To Find WhatsApp Backup On Google Drive :-
In your browser open Google Drive and login using your Google ID.

After logging in click the settings option which is placed at the top right corner of your screen. A gear icon represents the setting option in Google Drive.

After opening the Google Drive settings, Two options will appear under settings named as settings and keyboard shortcut.
Click the option of settings.

A General tab will appear in front Of your screen which shows the overview of your Google Drive profile.
Select the option of manage apps.

All the applications will appear on your screen that have access to your Google Drive storage.
All the data files in Google Drive are arranged in alphabetical order. Scroll down and you will see the folder of WhatsApp Messenger.
Select WhatsApp Messenger, click on options. This will only let you disconnect from the drive. in case you choose this option immediately Google Drive will no longer backup your WhatsApp data.
Conclusion :-
I hope this article on how to find WhatsApp backup on google drive helps you, in this article we covered and essential guide. Google Drive only let you search the backup or either delete.

The data of WhatsApp is secured by end to end encryption so a user can't read all the messages or extract to any other application.