How To Find IMEI Number In Redmi
🕐 1 Jan 23
Redmi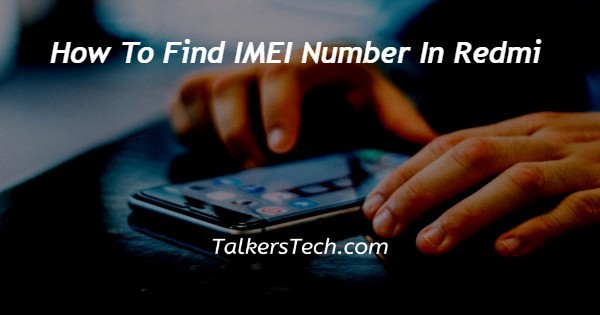 In this article we will show you the solution of how to find IMEI number in Redmi, before finding IMEI number in Redmi first let's talk about what is IMEI number? One of the numerous distinctive identities connected with mobile phones is the IMEI, or International Mobile Equipment Identity.
IMEI is related to the mobile device itself, unlike other identifiers like IMSI, MSISDN, and ICCID, which are attached to the SIM card. Dual SIM phones with one physical SIM slot and one integrated SIM slot are increasingly prevalent.
Every SIM slot on a mobile phone has its own unique IMEI number, therefore a dual SIM phone will have two IMEI numbers: IMEI 1 for the first SIM slot and IMEI 2 for the second.
The IMEI Number can be located in a different way. Some of them include the use of a secret code, while others guide you through the system settings or demonstrate how to physically locate the IMEI on your device.
You can discover additional helpful and hidden information, such as the XIAOMI Redmi Serial Number, by examining the IMEI Number just follow the steps given below in order to find IMEI number in Redmi.
Step By Step Guide On How To Find IMEI Number In Redmi :-
The USSD States for unstructured supplemental service data Without the need to contact customer support, it handles all the information about various services.
However, in order to obtain precise information, you must be aware of the precise code for the data you are looking for.
Open the phone's dialer after unlocking the screen.
Enter this secret code in your keyboard: *#06#
Consequently, you will see the IMEI Number window.
Through IMEI services, you can access: Carrier details, Warranty Status, IMEI.info Blacklist ,Device Serial Number Specification, Country of origin.
In case you have dual sim in your Redmi device you will see to IMEI number placed in the popup-up box placed at the bottom of the screen.
Conclusion :-
In this article we covered and essential guide on how you can find IMEI numbers in Redmi with the help of the Universal method. The steps mentioned above are detailed and easy-to-follow.
Your XIAOMI Redmi can only be identified by its IMEI number. Therefore, it may be used to read the XIAOMI Redmi's concealed information or to retrieve the complete specs of your phone.
Checking the IMEI is a frequent method to determine whether the XIAOMI Redmi is authentic and real.
The IMEI may be used to report your XIAOMI Redmi as lost or stolen, which is another extremely vital feature. we have also discussed the meaning of the IMEI number and the importance it holds.
I hope this article on how to find IMEI number in Redmi helps you and the steps and method mentioned above are easy to follow and implement.