How To Find Friends On Spotify Without Facebook
Last Updated : May 11, 2022
IN - Spotify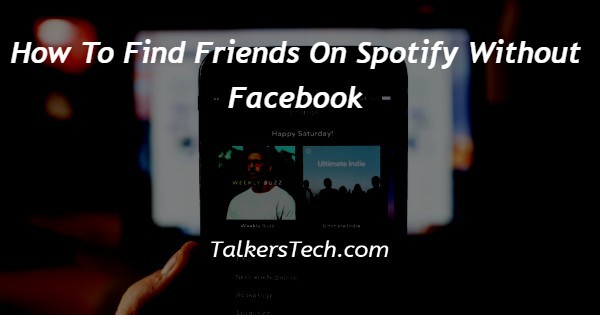 In this article we will show you how to find friends on Spotify without Facebook, the real essence of music is when it is shared with your friends and family.
We all know how some songs ignite feelings within us, it could be an old romantic song that reminds you of someone, or a nice peppy travel song that takes you back to the road trip you took with your friends, or a song that turns on your groove- whatever the mood is, Spotify is a music streaming app that has got you covered from all ends.
Like other social media platforms, Spotify is not behind. It also allows you to connect, follow and share music with your friends and family.
The Spotify premium membership allows you to stream with your friends and family and enjoy the music together.
No doubt that you can use apps like Facebook to find active users on Spotify, however, there is a way to do it without Facebook too.
In this article, we will see just how this can be done just follow the steps below.
Step By Step Guide On How To Find Friends On Spotify Without Facebook :-
To initiate the process, you will first need to open your Spotify account.
If you don't have this already downloaded in the device you are using to access the Spotify app, you can download it from the Google Play store.
Now you will need to access the App tray of your phone. This is the panel that displayed alphabetically all the apps installed on your mobile phone.
Scroll down to S and click on the 'Spotify' app icon.
As soon as you do this, the app will open on your screen.
Here, it is important to make sure that you have an active internet connection and are logged into your account.
Now, in the homepage, you will be able to see the latest launches, recommendations, daily mixes, etc.
In order to find a friend of yours, you will need to tap on the 'Search' icon. This icon is represented by a magnifying glass and is placed at the bottom of the page, along with other menu options like Home, Library, etc.
In the next step, a search tab will appear on the screen. Here, you can simply enter the name of your friend in the text-field available.
Once you are done, all that is left to do is Hit Enter.
This will show you all the results of your search.
Click on your friend's profile and now you will be taken to his or her page.
Here, you can explore their playlists, if accessible, and follow them.
Conclusion :-
This is how you can find friends on Spotify without using Facebook it is a short and quick process that gets the job done in just a few clicks.
I hope this article on how to find friends on Spotify without Facebook helps you and the steps and method mentioned above are easy to follow and implement.