How To Find Archived Emails In Gmail On Android
Last Updated : Nov 8, 2021
IN - Gmail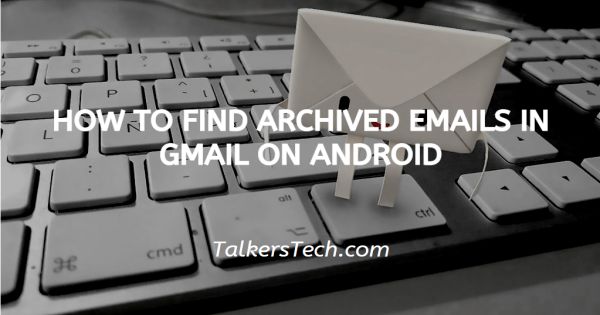 In this article we will show you how to find archived emails in Gmail on android, archive email is the ordinary mail including the label archive instead of label inbox. It also stored them along with other emails.
The label of the archive is not visible along with other labels which become confusing for many Gmail users. In case you want to hide your emails instead of deleting them forever you can simply archive these emails.

The archived emails can easily be retrieved in the future. Gmail lets you archive any number of emails you wish to do.

The archived emails disappear from your Gmail inbox and are present in the label of all mail until you delete them forever. Gmail also provides advanced filters in order to find a specific archived email.
Step By Step Guide On How To Find Archived Emails In Gmail On Android :-
By default Gmail forms a label named All Mail. This label will immediately show you all the email messages including your archived messages as well.
Open Gmail application in your Android smartphone. type your Google email address and password to complete the sign-in process if you are not logged in.
Click the three horizontal lines placed at the top left corner of your Gmail application.

A pop-up screen will appear in front of you showing you various options including recent labels, all labels, Google apps, primary, social and promotions.
Click the option of all mail in order to find archived mail in Gmail.

This option will show you all your emails which include priority mail and categories emails.

The option of all mail folder views is helpful in case you have recently archived an email. However, this method is not a reliable one in case you want to search many emails.
You can also find archived emails in Gmail using the option search bar. You can use this option which is present at the top of the Gmail application or Gmail website.

In order to search archived emails using the search option you Require the topic Centre along with the subject of your archived emails.

This method is a manual one. Gmail provides advanced search filters which help you find emails that are not found in existing folders like inbox, sent or drafts.

In order to list your archive emails simply type In:sent-:Draft-in:Inbox. Any Gmail user can type this in the Gmail application or the official website of Gmail.
Conclusion :-
I hope this article on how to find archived emails in Gmail on android helps you, in this article we covered an essential guide.

We have highlighted both the methods of finding archived emails in your Android smartphone. The steps mentioned above are quite detailed and easy-to-follow.