How To Find A Word In Google Docs
Last Updated : Jan 22, 2022
IN - Google Docs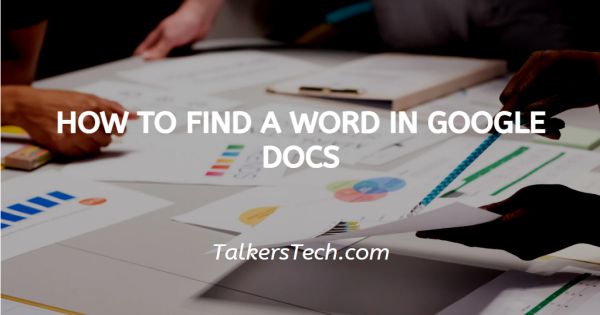 In this article we will show you how to find a word in google docs, google docs are one of the most widely used applications among users for creating presentation spreadsheets and documents.
Google Docs come with a variety of editing and formatting tools that help you create professional and personal documents easily.

Sometime in Long documents it becomes very difficult to search for a specific word in the complete document. For this you can easily find any word or term in the document with the help of a few clicks in Google Docs.

In case you are also looking for a solution on how to find a specific word in Google Docs, this is the right article for you.
Step By Step Guide On How To Find A Word In Google Docs :-
Open Google dog on your PC.
Make sure you are logged in to your account. In case it does not log you into your account simply enter your valid email id along with your password.
Now the Google docs interface will open on your screen.
Select the specific document where you want to find a word in Google Docs.
You can also use the search bar in order to find a specific document by entering its title or its related keyboard.
The menu of the Google docs shows various tabs including file, edit, view, insert format tools add-ons, and help.
Click the edit tab from the menu bar.
The edit tab show various options like undo, redo, paste, paste without formatting, select all, find and replace.
Select the option find and replace from the drop-down list.

A Find and replace pop-up window will appear on your screen. It comprises the options like find and replace with.

In case you want to look for a specific word in your Google Docs you can simply enter the word or term next to the option find.
In case you want to replace this specific word with any other term you can write the word just next to the replace with the column.
For Mac users, the shortcut for the search in option is command + shift + H.
However for PC users you can easily find and replace with the help of a keyboard shortcut key- Control + H.
In case you are looking for the word that you do not want to replace in your Google Docs, you can also go through the simple search in the procedure by simply tapping Control + F on PC.
A search bar will appear on the right side of the screen where you can enter the words that you want to find in your Google docs.
Conclusion :-
I hope this article on how to find a word in google docs helps you, in this article, we covered an essential guide.