How To Enable JavaScript In Internet Explorer 11
Last Updated : Mar 7, 2022
IN - Internet Explorer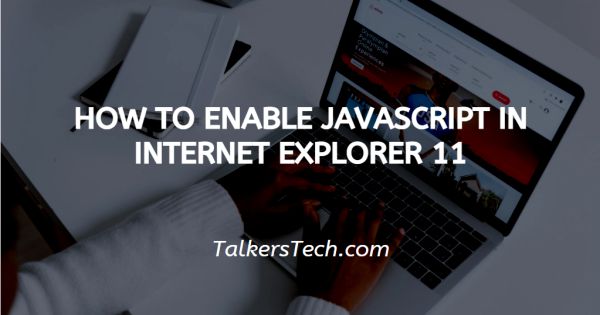 In this article we will show you how to enable JavaScript in internet explorer 11, Internet Explorer is a web browser used by thousands of people all over the world to browse and surf the internet.
JavaScript, in short, JS is a text-based programming language like CSS, HTML, etc. It is one of the core technologies of the World Wide Web. JS is a programming language used both, on the client-side and server-side.

Essentially, it allows users to make web pages interactive, engaging and user-friendly while other languages like HTML help in the formation of the structure of a website.

If you use Internet Explorer 11 as your web browser and have been searching for ways to enable JS in your browser, don't you fret! Your search has just ended.

In this article, we will see how you can enable JS in your Internet Explorer 11 in just a few quick and easy steps.
Step By Step Guide On How To Enable JavaScript In Internet Explorer 11 :-
Open the Internet Explorer 11 on your laptop, PC or mobile phone.
As soon as you click on its icon, a new window will open and take you to the main page.
Here, on the top right side of the page opened before you on the screen, you will be able to located the 'Tools' icon. Click on this icon to proceed further.
As soon as you do this, a drop-down list will open before you. This list will contain several functions and features that help you customize the settings of your browser.
From the list of options, take your cursor to the bottom of the list and click on the 'Internet options' icon.
This will open a new window on the left side of the screen in front of you.
From under the 'Security' tab, choose the option 'Custom level' by clicking on it.
To proceed further, tap on the 'Enable for active scripting' option located in the Scripting section.
Once you are done, a dialog box will be displayed on the screen. On this box, click on the 'Yes' icon to finish the process.
Conclusion :-
By doing this, you have successfully enabled JS on your Internet Explorer 11. This is how you can enable JS in your browser and I hope this article on how to enable JavaScript in internet explorer 11 helps you and the method and steps mentioned above are easy to follow and implement.