How To Edit Table Of Contents In Word
Last Updated : Nov 11, 2021
IN - Microsoft Word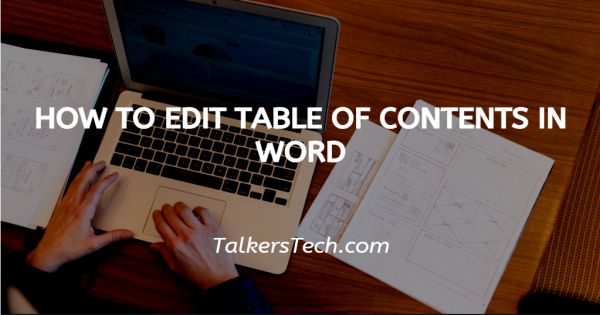 In this article we will show you how to edit table of contents in word, table of content is a summary or snapshot of the headings and page numbers in your document. It outlines the chapters of the document in the beginning of the document.
It helps the reader skip to the chapter or part of the document that he wishes to read, thus, making the entire process for him extremely user-friendly and convenient.

MS Word helps you to create a table and select its layout according to your personal preference or requirement. It automatically adds the page numbers and sets the entire layout in an order.

Once the document is made and the table of content is created, the users are also allowed to edit this table.

If you want to know how this can be achieved, you have come to the right place. Keep on reading to learn to achieve this by following the steps as explained below-
Step By Step Guide On How To Edit Table Of Contents In Word :-
Open your laptop or PC. On the desktop of your device, you will spot a Microsoft icon at the left bottom corner of the page. Click on this icon to open the menu. From this open the MS Word app from under the Microsoft Office.

Now, open the document in which you wish to edit the table of contents.
Now, on the top section of the page, you will see a mini window of several functions under various tabs.
Click on the 'References' tab to proceed further.
On the left most side of this tab, you will see the 'Table of contents' icon.

Click on this icon and a drop down list will appear on your screens.
The only way to change the name of a section on the table of contents is to change the name of the corresponding header in the document.
Now, click on the 'Update Table' icon.
Next, you will be able to see two options- Select the 'Update page numbers' if you want to refresh the page numbers without applying any changes you've made to the headings. Tap on the 'Update entire table' to apply all heading and page number changes.
Once you have selected the option of your preference, simply click on the 'OK' icon below to complete the process.
You can also customize the table of content by clicking on the 'Customise table of content' icon from under the 'Table of content' icon.
This will open a new window where you will be able to change the settings to suit your preference.
Conclusion :-
I hope this article on how to edit table of contents in word helps you.