How To Edit Email Address In Gmail
🕐 1 Jul 23
Gmail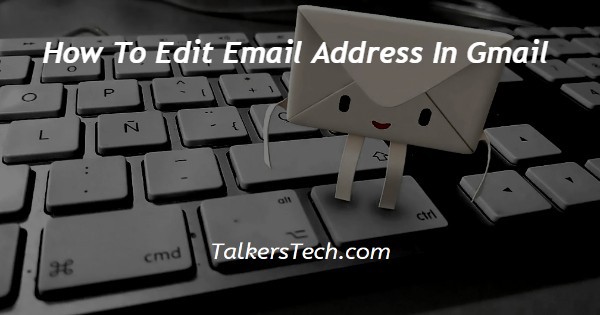 In this article we will show you how to edit email address in Gmail, Google provides a features to there users to edit info of their users anytime in Gmail if they want to.
When working professionally, we need an appropriate and attractive username in Gmail ID for your office work.
At the time of creating a new email account, we generally select a preferred username and we don't make an effort to use the username which is easy to remember and looks nice.
You cannot edit your Gmail address but you can change your edit info in the desktop version only because this feature is not available in the mobile app.
Below are the steps to edit your email info in Gmail. Follow the
instructions properly to avoid any errors in future.
Step By Step Guide On How To Edit Email Address In Gmail :-
At first, open gmail.com in your desktop browser.
If your account is not already signed in, then a page will appear asking for your email id.
Enter your email id in the respective field.
Then, click on the Next option.
Then, a page will open asking for the Password of Gmail account.
Type your password in the specific field.
And, then again click on the Next option.
This will open your Gmail account on your desktop.
Now, select the gear like settings icon at the top right corner of your screen.
A drop-down menu will open after clicking on the Settings option.
From it click on the See All Settings option.
After clicking on the See All Settings option, a setting page will open on your desktop.
Then, click on 'accounts and import' option in the settings page which is at the top of the screen among the other options.
Now, go to the Send mail as: option where in the right you will see your mail address is written.
Tap on edit info at the right corner of the send mail as option.
After clicking on the edit info, a new edit email address tab will open on your screen.
Enter your new name in the respective section.
You can also add your other email address in the Reply-to address section.
If you want a reply of that particular mail to be send to other email address
And then, Click on 'save changes' to confirm the settings.
Conclusion :-
This makes it possible to change your name on the mailing address. If you would like to change the entire email address, you will need to create a new Gmail account.
That's the only way to change your full email address. In the current account, you only change your name. I hope this article on how to edit email address in Gmail helps you.