How To Edit A Pdf In Google Drive
Last Updated : Nov 26, 2021
IN - Google Drive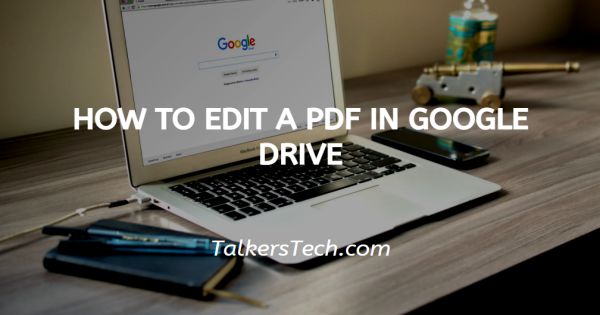 In this article we will show you how to edit a pdf in google drive in Google Drive, you can easily change any PDF into a Google doc. You can also extract the text from the images with the help of built-in optical character recognition.
Unfortunately, Google Drive does not provide any feature for PDF editing. This means you can't do stuff like filling out a form or changing the layout of your PDF. in Google Drive you can only see the preview of a PDF or you can easily convert a PDF to a docs file.
Step By Step Guide On How To Edit A Pdf In Google Drive :-
Open the application of Google drive in your browser. Make sure you are logged in to your Google account using your valid email id and password.
In case you want to add a new PDF file in Google Drive you can simply click the option- New placed at the bottom of the Google Drive logo.

After clicking the option of new, a drop-down menu will appear to show various options including folder, file upload, folder upload, Google docs, Google sheets, Google slide, and more.
Click on the option of file upload.

In case you want to edit a PDF existing already in your Google Drive, search The title of the PDF in the search bar.

After finding the PDF, tap it in order to see a preview.
In Google Drive, you can easily read the entire PDF but you cannot make any edits you also can't copy any text written in the PDF.
Now in order to change this situation, you can easily convert PDF into a Google doc.
When you change the PDF into a Google doc, you can easily edit the text or even change the text present in the images. This is because of the capability of OCR which is a built-in feature of Google Drive.
First, you need to open the document preview in order to see the content of the PDF.
When you open the PDF preview, at the top you will see the option of open with.

You will see the option as Google docs, Lumin PDF or Dochub where you can view and edit & the PDF. You can also connect to more apps.

When you click the option of open with Google Docs, usually the layout of the PDF differs slightly from the original PDF. here you can easily copy extract or edit the text, images, font, colour in the PDF.

The built-in OCR assists you to change a variety of scanned images into text with the help of a few clicks.
Conclusion :-
I hope this article on how to edit a pdf in google drive helps you in this article, we discuss an essential guide converting a PDF in Google drive with the help of opening it with Google Docs is one of the easiest methods to edit the PDF with just a few clicks.