How To Download Voot Videos
🕐 1 Jul 23
Voot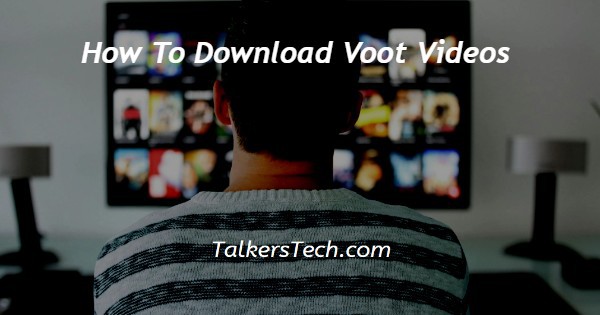 In this article we will show you how to download voot videos, in case you are looking for a solution on how to download voot video this is the right article for you.
Even if you do not have the voot Prime subscription you can still download some of the voot videos that are provided for free.
The Voot official website as well as its application for Android and IOS users provide an option called free pass which has Limited access to some of the TV shows, series and movies that you can download and watch absolutely free.
With the help of the download option you can easily watch your favourite show offline without requiring any internet connection.
Step By Step Guide On How To Download Voot Videos :-
Using Voot Application On Android Device.
Open Google Play Store on your Android device.
Search for the voot application and click install.
Once the application is successfully installed click the options open to proceed further.
In the registration screen you can easily register or login with mobile number continue with social media accounts such as Facebook, Google, Apple ID and mail
In case you are logging voot with your mobile number, you need to enter the onetime password you will receive on your mobile.
After successfully login to your account you will see 4 tabs placed at the bottom of the screen.
These tabs are called my voot, TV shows, Sports and movies.
In the my voot section you will see some of the categories place that the middle of the screen such as original, sport, show, free pass, movies, International Shows and others.
Click the options free pass from the my voot tab
In case you do not have the voot premium membership you can easily click on the free pass tab to get access to the free content available in the voot application.
Now select the specific movie or show that you want to Download.
Once you select the specific video which you want to download from voot you will see some of its details such as language, rate rating, release date and plot of the movie.
In case it includes an episode, you can see the list of all the episodes are the bottom of the screen along with the duration name and release date.
Now in order to download the voot video you need to select the specific episode.
As soon as you start playing the video in the voot application you will see two options at the bottom named download and share.
Click on the download option.
A popup box will appear on a screen which will ask you to select the video quality for downloading the selected video.
Conclusion :-
In this article we covered an essential guide on how you can download voot videos on voot application.
I hope this article on how to download voot videos helps you and the steps and method mentioned above are easy to follow and implement.