How To Download Videos On iPhone From Safari
Last Updated : Jun 14, 2022
IN - iPhone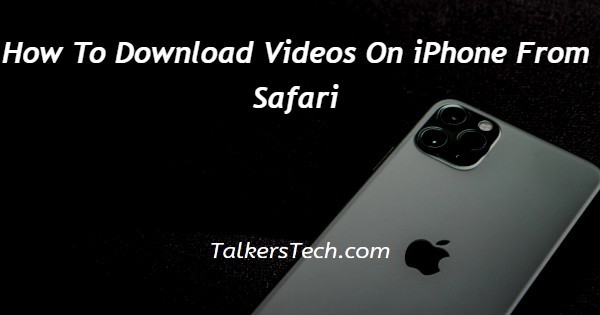 In this article we will show you how to download videos on iPhone from safari, these days every iPhone user prefers to download the videos on their device.
In case you are out of internet data you can always Download the videos of show a movie or series on your iPhone.
The Safari browser Provide the download option for some of the videos.
The Safari browser does not support downloading all the videos. In case you want to download the video from Facebook or other popular video platform you can use a third party application from the app store.
In case you are looking for a solution on how to download videos on iPhone from Safari this is the right article for you just follow the steps given below in order to download videos on iPhone from Safari.
Step By Step Guide On How To Download Videos On iPhone From Safari :-
In the first step you need to copy the URL of the specific video that you want to download on iPhone from Safari.
After this you need to go to save from.net.
In this third party application you need to paste the URL of the video that you previously copied.
Paste the URL in the search field Placed at the top of the screen.
Now you need to click the arrow for the procedure to start
A quick action menu will appear on your screen.
The menu will show various options such as open, open in a new tab, download link file, add to reading list, and copy.
Now you need to select the option to download the linked file.
After clicking this option the downloading procedure will start automatically .
After the video is downloaded successfully the Safari web browser store all the downloaded videos and the file application.
You can also change the location of the downloaded videos to the icloud drive download folder.
Apart from icloud you can also use other cloud services such as Google Drive, mega, dropbox and others to set up the file application for storing your downloaded videos from Safari Browser.
Conclusion :-
I hope this article on how to download videos on iPhone from safari helps you and the steps and method mentioned above are easy to follow and implement.
In this article we covered an essential guide on how you can download videos on iPhone using Safari Browser.
We have also discussed some of the primary locations in order to store your downloaded videos from the Safari Browser.
Now you no longer face difficulty while downloading any form of video on your iPhone from Safari.