How To Download Others Resume From LinkedIn
Last Updated : Nov 23, 2021
IN - Linkedin
In this article we will show you how to download others resume from LinkedIn, LinkedIn is a social media platform especially made for professionals. Consider it as pilgrimage if you are looking for a Job. LinkedIn helps people to connect with millions of professionals around the globe.
It helps you to build a network so that you can easily look for Jobs and apply for them. It's very effective for recruiting. It helps you to look for your potential candidate and you can also filter the candidates.

LinkedIn has messaging feature which lets you communicate with other users but you can only chat with other users if you are connected with them, It also has an inMail messaging feature which allows the users to even message the people with whom they are not connected.

The inMail feature is only available for the prime users. It's a cardinal sin if you are a professional and don't have an account on LinkedIn. You can easily filter candidates for the job position by going through their profiles which is somewhat like a resume.

Candidate's skills specialization and qualifications are available in their profile only. LinkedIn is used by millions of recruiters to vet the selected candidates. A person's LinkedIn profile has a huge amount of information about their professional life.

It becomes an Ideal choice for recruiters to look for potential candidates for the job position.

A user can also include his/her resume in their LinkedIn profile. The resume can be downloaded by the potential recruiters. The user can adjust with whom He/ she want to share the resume with. Let's see how to download resume from a person's LinkedIn profile.
Step By Step Guide On How To Download Others Resume From LinkedIn :-
Resume can be easily downloaded from a user's account if they have uploaded it, you can follow the given steps to download the resume.
Unlock your device and open the LinkedIn app. you can download it from the Playstore or Appstore. You can also use the web version of LinkedIn
On opening the app, tap on the search bar and search for the name of the person whose resume you want to download. Now select his name from the search result.

Open the profile of the concerned person. You will see three horizontal dots next to the message button, tap on it, a menu will appear in front of you.
On the menu you will see an option to download resume. Click on it and the resume will be saved to your device in a PDF file.
Note- you can only download resume of a person if he/she has uploaded it in their profile. It is not mandatory to upload resume on LinkedIn. You can go through the person's profile as it is also like the resume of the person. It is basically the highlights of his/her resume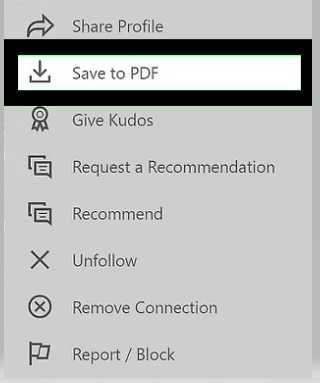 Conclusion :-
A resume gives all the information about an individual's professional qualifications hence it plays a great role in recruiting a candidate. By following the given steps you can easily download resume from LinkedIn. I hope this article on how to download others resume from LinkedIn helps you.