How To Download Instagram Videos On iPhone
Last Updated : Dec 6, 2022
IN - Instagram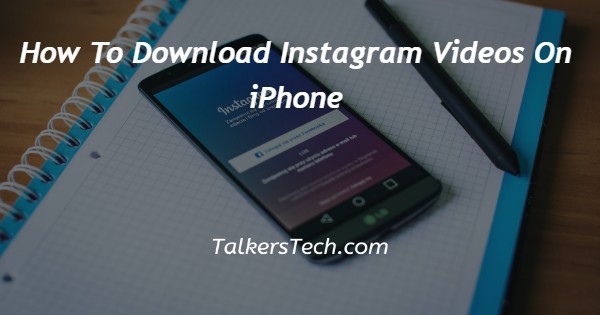 In this article we will show you the solution of how to download Instagram videos on iPhone, the official Instagram application available for Android and iOS users does not provide the option to download and save the Instagram video or photos on your device.
Instagram videos consume internet data, in such cases, it is very important that you can download the Instagram videos on your iPhone so that you can watch them offline or also share them with your friends by using other social media applications.
There are many third-party websites and application that helps users to download Instagram videos on iPhone.
In case you are looking for a solution on how to download Instagram videos on iPhone this is the right article for you just follow the steps given below in order to download Instagram videos on iPhone.
Step By Step Guide On How To Download Instagram Videos On iPhone :-
Open the Instagram application on your iPhone device.
In case you have not installed this application you need to install it using the app store.
Log into your Instagram account by entering your credentials are charged email address and password.
You need to search for the specific videos that you want to download on your iPhone from the home tab.
After selecting the video you need to click on the three dots placed next to the name of the Instagram account.
Once you click this, a drop-down menu will appear on your screen with will show you various options such as report, copy link, share To and others.
Click the option copy link.
Now you need to open the Safari application and search for the Instagram video downloader.
Once you open this website you will see the option of paste the Instagram video link.
Simply tap on the text field till you see the option of paste.
Now hit the download button placed at the bottom of the screen.
Once you click on this option the Safari application will ask you to again click on the option download file in a form of a pop-up box.
Click the option download from the popup box to confirm the choice.
You can also check the progress of the downloading procedure with the help of the icon placed at the upper right corner of the browser of Safari application.
Once the Instagram video is successfully downloaded simply click the download icon to check the downloaded Instagram video on your iPhone.
You can also save the Instagram video in your photo application on your iPhone device by simply clicking the option save video.
Conclusion :-
In this article we covered an essential guide on how you can download Instagram videos on iPhone.
I hope this article on how to download Instagram videos on iPhone helps you and the steps and method mentioned above are easy to follow and implement.