How To Download Disney Plus On Vizio Smart TV
Last Updated : Jun 6, 2022
IN - Disney Plus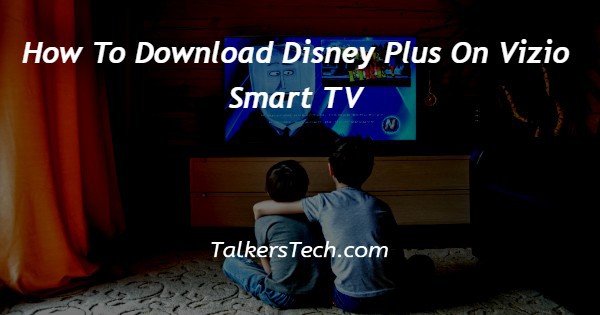 In this article we will show you how to download Disney plus on Vizio smart TV, smart TVs are one of the most convenient inventions in the realm of technology. It allows users to discard the use of external devices like Amazon firestick, etc. and helps you download and stream apps directly from the TV set.
When it comes to the Vizio Smart TV, there are two essential things that you have to keep in mind.
The first one is that if you have a Vizio smart TV post 2016, the device will support the app.
However, if you own any Vizio TV before the above mentioned year, the app will not be supported.
In either of the cases, you can stream the Disney plus app on the device, but download it only in the first case.
Let us learn more about how this can be done in this article just follow the steps as explained in the steps below and you will be done in just no time.
Step By Step Guide On How To Download Disney Plus On Vizio Smart TV :-
Let us start by focusing on the first case. In this case, you can download the app without a fuss.
The first thing to do is switch on your Vizio smart TV using your remote control.
The next thing that you need to do is head over to the 'SmartCast' platform.
Here, you will be able to download all the apps that are permitted by the device.
Search for the 'Disney plus' app and proceed to download it.
It is important to note here that you have to make sure that your TV is connected to an active internet connection.
Wait for the app to download. Once that is done, click on the app icon to open it.
Here, you will be asked to fill in the personal details of your account and password in order to log in to your Disney plus account.
This will take you to the home page of the app. Here you can explore the wide variety of content or continue watching the title that you are onto.
In the second case, you can't download the app as it is not supported by the TV, however, you can use external devices like Roku, Firestick, Chromebook, Chromecast, etc. to stream the app on the TV.
Conclusion :-
This is the way to download the Disney plus app on your Vizio Smart TV and enjoy surfing through the contents on the big screen, without the hassles of watching them on your mobile phones, laptops. Etc.
I hope this article on how to download Disney plus on Vizio smart TV helps you and the steps and mentioned above are easy to follow and implement.