How To Download Airtel Postpaid Bill
Last Updated : Jun 9, 2022
IN - Airtel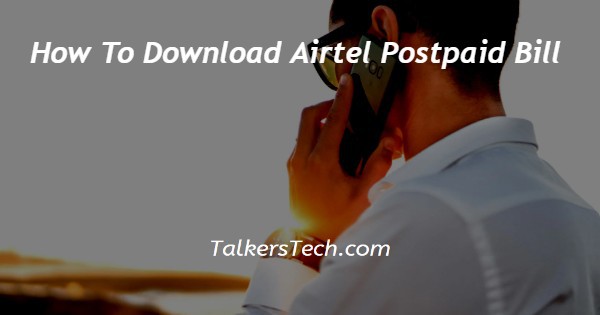 In this article we will show you how to download airtel postpaid bill, Airtel has made it easy for its users to download the postpaid bill with the help of online or offline methods.
Airtel thanks application makes it easy for the users to download any form of Airtel service bill within just a few seconds.
It is very essential to download an Airtel postpaid bill for users so that they can get to know about the details of the previous plan on the amount they have paid for the specific plan of the month or year.
In case you are looking for a solution on how to download an Airtel postpaid bill this is the right article for you just follow the steps given below in order to download an Airtel postpaid bill.
Step By Step Guide On How To Download Airtel Postpaid Bill :-
By Using Airtel Website
Open Google or any other Browser on your device.
Search for the official Airtel website.
On the next screen it will ask you to enter your mobile number and enter one time password.
You can also login using your mobile number instead of one time password.
After successfully logging into your account you will see the Airtel postpaid dashboard on your screen.
You will see and account overview which include bills and payment, payment Bank.
The account overview section will show you your due date along with the available balance.
On the left side of the screen you will see the account section.
Click this option and on the next screen you will see your name along with the mobile number and four options placed at the top of the screen.
These four options are usage, billing, plan and services and device.
Now in order to download an Airtel postpaid bill you need to click the billing option.
Once you click this option you will see the bill summary which will include previous balance, payment received, adjustment, current charges, total amount due and other details.
Just below all these details you will see three icons for email print and download.
Click the downward icon which shows the download option.
Once you click the downward Arrow on the next page you will see the current bill of your Airtel postpaid number.
It will automatically download your current billing cycle.
In case you want to download the Airtel postpaid bill of previous payment you can also go through the building history with will show your last bill and statement.
Conclusion :-
I hope this article on how to download airtel postpaid bill helps you and the steps and method mentioned above are easy to follow and implement.
In this article we covered an essential guide on how you can download an Airtel postpaid bill through an online method.