How To Do Text To Speech On Google Docs
Last Updated : Mar 8, 2022
IN - Google Docs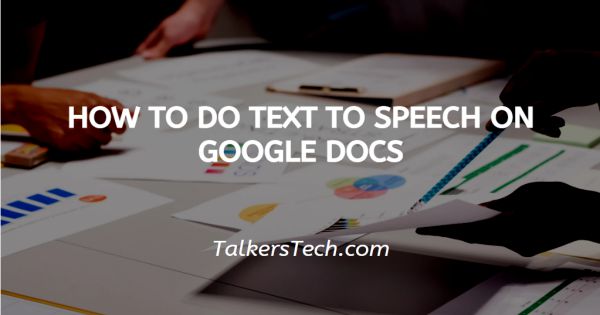 In this article we will show you how to do text to speech on google docs, Google docs is an awesome tool that allows you to create personal and professional documents. It provides a wide array of tools and features that allow one to present and format the content in the best and most attractive way possible.
Have you ever wondered how delightful it would be if you could have the text in the document be read out to you instead of having to glare at the screen and read it.

Sounds exciting, doesn't it? Do you want to know how that can be done? If the answer is yes, let us see how it can be done in just a few quick and easy steps. Follow the steps as explained below and you will be done in no time.
Step By Step Guide On How To Do Text To Speech On Google Docs :-
Open your PC, laptop or mobile phone, now there are two ways of opening Google docs.
The first thing is that you can go to the homepage of Google web browser. Here, click on the 'Grid' icon at the right top side of the screen. From the options present, click on the 'Google Docs' icon.

Here, you can either choose to open a blank document or open a pre-existing one.

This will bring you to the main page of the Google docs.
At the top of the screen, you will be able to see various tabs, click on the 'Tools' icon.

This will open a drop-down list. From this, choose the 'Accessibility settings' option.
This will open a new window on your screen. Here, tick the box next to the 'Turn on Screen Reader Support' icon and then click on the 'OK' icon to proceed ahead.

In the next step, you will be able to see a new section appear in your top toolbar called 'Accessibility'.
Now, you will be required to highlight the section or lines of text that you want Google docs to read aloud to you.
Finally, all you have to do is click the 'Accessibility' icon and then 'Speak', followed by 'Speak selection.'
Conclusion :-
This is how you can make Google docs read out the content of the document aloud to you. I hope this article on how to do text to speech on google docs helps you and the steps and method mentioned above is easy to follow and implement.