How To Do Hanging Indent On Word
🕐 1 Jul 23
Microsoft Word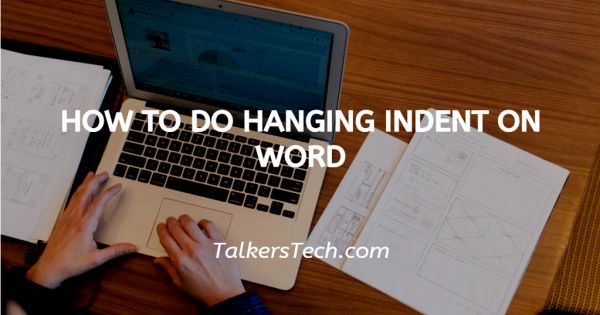 In this article we will show you how to do hanging indent on word, hanging indent are known as second line indent. these are a formatting option in which the first line of the paragraph is placed along with the margin and the subsequent paragraphs are indented accordingly.
Intents are extensively used in bibliographies as it enables The Reader to identify the breaks between the citations with the help of hanging indent a reader can easily scan the names or other important information.
Step By Step Guide On How To Do Hanging Indent On Word :-
Open word on your PC.
Select the document where you want to include a hanging indent. you can search the name of the specific document by typing its related keywords are the top of the search field in the homepage of MS Word.
However in case you want to include hanging indent on a fresh document click the option of new blank document placed at the top of the homepage of MS Word.
Now you need to highlight the paragraph where you want to add hanging indent.
The word ribbon placed at the top of the screen provide various options like file home insert design layout references mailings review review and help.
Click the home tab placed at the top of the word ribbon.
Once you click the Home tab, you will see various options like clipboard, font, paragraph, styles, voice and editing.
Look for the paragraph section and click the arrow which is placed at the bottom right corner of this section. The downward Arrow represent the paragraph setting with help you to find tune the layout of the current paragraph including spacing indentation and more.
After clicking this arrow a pop-up window will appear on your screen. The paragraph popup will show options for indent and spacing along with line and page break. You will see options for general, indentation spacing along with preview.
Under indentation you will see four options- left, right, special, and by.

Click the dropdown place next to the special. Drop down list include three options- none, First line and hanging.
Click the option of hanging from the list. you can also tap the up or down arrows which are placed next to by in order to adjust the indent's depth.

Now click the option of ok which is placed at the bottom of the paragraph popup window.
Conclusion :-
I hope this article on how to do hanging indent on word helps you in this article we covered an essential guide and I hope this article solves your query.