How To DM On Instagram On Laptop
🕐 1 Jul 23
Instagram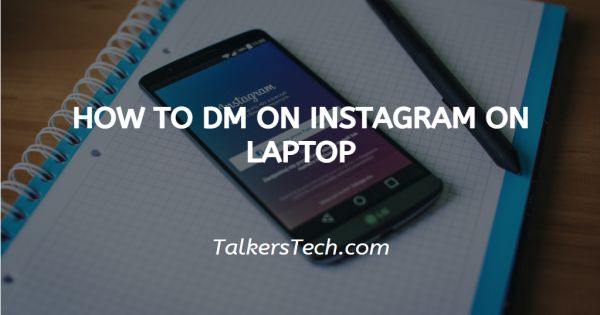 In this article we will show you how to dm on Instagram on laptop, Instagram is owned by Facebook and it is a photo and video sharing platform which is enjoyed by millions of users from all around the world.
The services offered by Instagram are more focused through apps rather than the web version. The web version Instagram has only few features as compared to the app version like watching stories and posts.

Now this platform has also enabled the feature of direct messaging in your laptop. Feature of direct message in you can easily send and receive the messages from your friends and non-followers.

This feature is similar as compared to the app version where users can send and receive messages from their friends, form new groups, share ideas and videos even in a direct message.

In the web version a user can also put the notification of direct messages on in order to keep the person updated with the latest information. Direct messages are a personal form of communication which allow a person to chat one on one with other persons.

This one on conversation is not visible to others on Instagram.

Before moving forward first let's discuss what are the pre requirements in order to DM on Instagram on your laptop.
A person must have an Instagram account that is active.
You must have a supportable browser in order to run Instagram. the supportable browsers are Google Chrome, Safari and others.
Look for any updates in your laptop.
Make sure the version of Instagram that you have in your laptop is updated.
A stable internet connection is a must.
Step By Step Guide On How To DM On Instagram On Laptop :-
First you need to open any Browser on your laptop. Instagram can run on any browser you use on your laptop.
Once you login into your account you will see 5 options place at the right corner of your screen.
click the option of direct messaging which is represented by the paper airplane icon.
After clicking this option you will see the list of all the chats that you have recently done on the left-hand side of the screen. All the unread messages are visible at the top of the DM page in your Instagram account.
Now in order to send direct messages on Instagram. you will see the option of sending a message on the right hand side. Click the option of send a message. You can send a personal message to any specific user or in a group.
Instagram will show a pop out in which a list of users will appear on your screen or you can simply write the username at the top of the section Besides the word- To.
You can also choose over one user to send a direct message.
Click the option of next placed at the top right corner of the screen.
The Catwalk of this person will show on your screen and it will include both the messages that you have sent or received.
At the bottom of the chat box you can type the message that you want to send along with sharing media like photo and video, emojis and gifs.
After typing your message click the option of send and it's done.
Conclusion :-
I hope this article on how to dm on Instagram on laptop helps you, in this article we covered and essential guide. The steps mentioned above are quite detailed and easy to follow.