How To Disconnect Facebook From Spotify
🕐 1 Jul 23
Spotify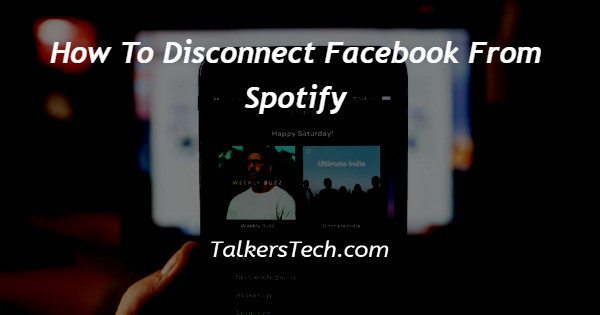 In this article we will show you how to disconnect Facebook from Spotify, Spotify help the users to also set up their account using the Facebook ID as Spotify authentication.
It means in case the user is already logged into Facebook on the browser he or she can easily launch the Spotify web player.
When you want to disconnect Facebook from Spotify you need to make sure that you can get into your account after you unlink the Spotify by creating a new password.
When you link your Spotify account to your Facebook then it quickly share your listening taste to the Facebook and also help you to easily connect with the friends that you have made on Facebook on the Spotify.
In case you are looking for a solution on how to disconnect Facebook from Spotify this is the right article for you.
Step By Step Guide On How To Disconnect Facebook From Spotify :-
Disconnect Facebook From Spotify On PC.
Open the Spotify application on your pc.
In case you are not logged in to your account simply enter your Spotify account credentials as your valid email address along with password.
You can also login to your Spotify account using your phone number as the last Facebook ID and Google account.
Before disconnecting Facebook from Spotify you need to click the option forgot your password place below the other options of logging into your account.
Now you need to enter the email address that you are using for your Facebook account.
Click the option- send.
Go through your email and tap the recent link.
Now you need to enter a new password for your Spotify account which is disconnected from Facebook.
Now you can easily login to your account by using your new email address and password.
After successfully logging into your Spotify desktop application tap the downward Arrow place next to your name.
A drop down menu will appear on your screen which will show an option named Account profile upgrade to premium, settings, private session and logout.
Click the option settings from the dropdown menu.
The setting tab they display various options For language, explicit content, autoplay, audio quality, local file, display, social, Playback, privacy, compatibility and others.
Among all these setting option search for social.
Under social you will see the option Connect with Facebook to see what your friends are playing.
Now if you have connected your Facebook account to Spotify account then easily you will see the option of disconnect from Facebook place next to this option under social.
After clicking this option, it will automatically disconnect Facebook from spotify.
Conclusion :-
I hope this article on how to disconnect Facebook from Spotify helps you and in this article we covered and essential guide on how you can disconnect Facebook from Spotify and the steps mentioned above are quite detail and easy-to-follow and implement.