How To Delete YouTube History Without An Account
🕐 1 Jul 23
Youtube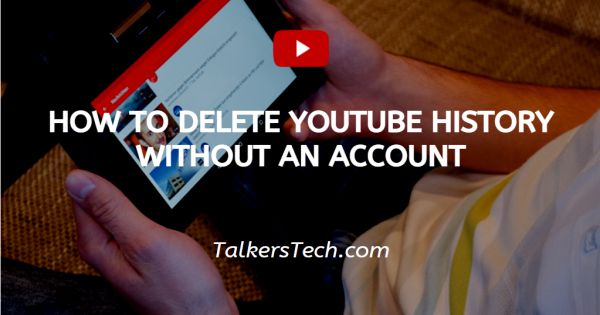 In this article we will show you how to delete YouTube history without an account, YouTube has content you can never think of. All you have to do is type and search it and it is there right in front of you.
it is filled with tutorials, information, and funny videos, cooking shows, health video and many more. As I said before, you just have to search it.

But sometimes you stumble upon videos and content that are not in your interest. Due to algorithm, once you have stumble upon the video, YouTube will keep suggesting videos like that on your main screen. In order to stop that, you must delete your history of YouTube.

There are two types of histories. One is of the search engine which contains knowledge about all your activities while the other history is of YouTube that records all the videos you have seen till the date.

If you don't that, YouTube uses its algorithm and works according to that. It is essential to keep deleting your YouTube history so that you don't get continuous suggestions of video you don't want to watch.

This article focuses on easy ways to delete the YouTube history without logging in your account. Every account has its particular history and so does the non-account YouTube tabs.

We will learn how to delete the history with few easy steps and few minute of yours. We believe that these few steps will help our readers to understand the process with no difficulty.

So let us come now and follow the given steps below to learn how to delete the history of YouTube without any account logged in.
Step By Step Guide On How To Delete YouTube History Without An Account :-
Open your Chrome or Brave software to access the internet.
Once it is open, search "YouTube" on your preferred search engine and press "Enter"

New tab will open in front of you showing all the searches for YouTube. Click on the first "YouTube" site and wait.

As you can see, you have reached the official YouTube page. You are supposed to click on the three horizontally-stacked lines next to the YouTube logo on the upper left corner.

The menu bar open in the left corner of the screen. Click on the option of "History" below many other options.

It will lead you to a new tab where all the video you have seen without logging in will appear. In the right corner of the screen you have multiple options and as you want to delete the history, you have to click on the option of "CLEAR ALL WATCH HISTORY".

A new notice will appear in front of you asking "Clear Watch History". You have to click on the "Clear Watch History" at the bottom of the notice that is blue in color.
Conclusion :-
Once you click on that option, your entire watch history will get deleted without logging in your account. This is how you delete your watch history and few easy steps and minutes in your hand.

I hope this article on how to delete YouTube history without an account helps you.