How To Delete Paytm Bank Account
🕐 21 Feb 23
Paytm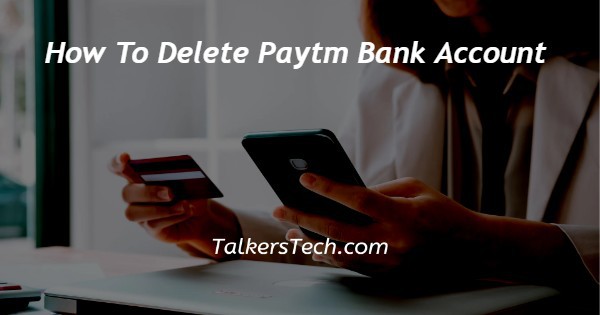 In this article we will show you the solution of how to delete Paytm bank account, there can be various reasons due to which a user wants to delete their Paytm bank account such as having more than one bank account for others.
You can easily delete Paytm bank account with the help of the 24/7 help and support feature provided by Paytm for Android and IOS users by using its official application.
Before deleting Paytm bank account make sure that you transfer the existing balance to another bank account in Paytm just follow the steps given below in order to delete Paytm bank account.
Step By Step Guide On How To Delete Paytm Bank Account :-
Open Google Play Store on your Android device.
In the search bar, you need to type Paytm
Now click on the option to install in order to download this application on your Android device.
Once the application is successfully installed, click open to proceed further.
Assuming you have already created your account in Paytm you just need to enter your mobile number and four-digit password to login.
Click the profile icon placed at the top left corner of the screen.
A detailed menu will appear on the new screen which will show various options such as order and bookings, digilocker, cashback, profile settings, 24/7 help support, Paytm postpaid.
Click the option payment setting.
On the next screen it will show you various options such as up and linked bank account, Paytm wallet, saved cards, Paytm postpaid, Paytm reminder, automatic payment and subscription.
Click the option UPI and linked bank account placed at the top of the payment setting page.
On the next screen it will show you some of the recent payment, and saved bank accounts.
Under the heading saved bank account it will show you the list of all the banks that are linked with your Paytm account.
You need to select the specific bank account that you want to delete from Paytm.
If you have more than one bank linked with Paytm you will see one of the bank accounts as your default or primary bank account.
In case you want to delete a Paytm bank account other than your default or primary bank account you just need to simply click the bank name.
Once you click the bank name, on the next screen it will show you its details such as type of bank account, IFSC code and other.
Below these details you will see three options called make primary, forgot upi pin and remove Bank.
Click the option remove back in order to delete Paytm bank account.
A popup box will appear on your screen which will ask you if you are sure to delete this bank account.
Click yes and you will see a small popup placed at the bottom of the screen with information that Bank removed successfully.
Conclusion :-
I hope this article on how to delete Paytm bank account helps you and the steps and method mentioned above are easy to follow and implement.