How To Delete Netflix Profile On iPhone
🕐 1 Jan 23
Netflix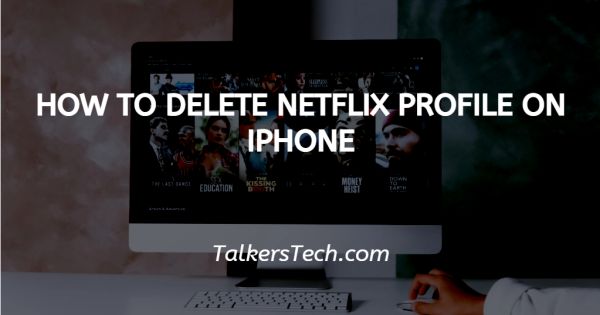 In this article we will show you how to delete Netflix profile on iPhone, in Netflix users can easily add multiple profiles to a single account. In Netflix you can easily create up to 5 profiles.
Each of the created profiles has its own viewing history along with recommendations. This feature is really helpful in case you want to create a separate profile for your kids.

The Netflix profile help the users to share the account with others.

The profile holder Can customize their recommendations and can also put a pen on their profile for privacy.

Sometimes a user prefers to delete one of the account profiles for various reasons. Users can easily delete a specific profile that they no longer need from various devices such as web browser, mobile device or television.

However, when you delete a profile on your iPhone, it will also delete the viewing history of the selected profile.

In case you are looking for a solution on how to delete Netflix profile on iPhone, this is The right article for you.
Step By Step Guide On How To Delete Netflix Profile On iPhone :-
Open the Netflix application on your iPhone.
In case you are not logged into your account you need to enter your credentials to open the application on iPhone.
After logging in, the Netflix home page will appear on your screen with various tabs at the bottom of the screen.
These tabs include home, search, coming soon, downloads and more.
Select the option more placed at the bottom right corner of the screen.
On the next screen you will see the number of profiles at the top along with other options named manage profiles, my list, app settings, account and help.
Select and manage profiles placed just below the list of all the Netflix profiles created in your account.
Now you will see an edit profile screen where you need to select the specific profile that you want to delete from your Netflix account on iphone.
After selecting the specific profile, Search for the pencil icon just above the profile icon. With the help of a pencil icon, you can edit the profile.
Select the delete icon placed at the bottom of the screen.
You need to confirm that you want the selected profile to delete from your Netflix account by clicking the option- yes.
Conclusion :-
I hope this article on how to delete Netflix profile on iPhone helps you, in this article, we covered an essential guide and the steps Mentioned above are quite detailed and easy-to-follow.