How To Delete Myntra Order History
🕐 26 May 23
Myntra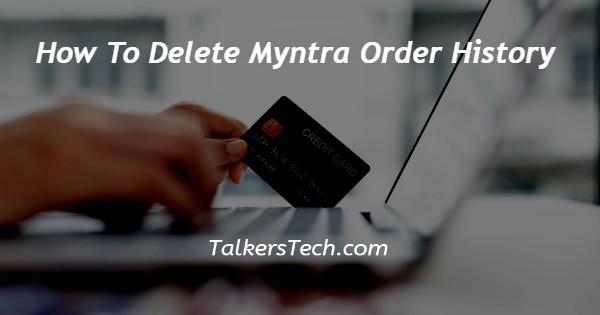 In this article we will show you the solution of how to delete Myntra order history, one of the places where people may shop for all of their needs and requirements is Myntra, one of the most popular online platforms in India.
As time goes on, people are growing to be loyal to Myntra, and their faith in the company compels them to make purchases from it.
However, a record of our orders is available after the purchase.
Our financial information and online order history data are not necessary to be shared.
Whether they be bank accounts or shopping accounts. Data loss from user accounts results from this.
If we look at it from the perspective of an online merchant, we must protect the privacy of our customers by making sure they don't divulge their secure information online.
The simplest way to do this is to simply wipe their browsing history.
The order history cannot be specifically deleted in Myntra. Any e-commerce website does not allow you to remove your purchase history.
It doesn't matter if it's Myntra, Flipkart, or Amazon. Your future actions, such as order return or order exchange, will affect the details of your order.
Because of this, no e-commerce website allows you to delete the order.
In this article we discussed about the alternate ways that are present to delete the order history.
Step By Step Guide On How To Delete Myntra Order History :-
Download the Myntra application on your smart phone using play store.
Once you downloaded the app then open the app on your smart phone and log into you're Myntra account by providing account details.
Then you can see your profile option at the bottom right corner of your screen.
Click on your profile option.
There you can see the option named as "Help center"
Click on the help center option then it will open a new interface with many options on which you want to take help.
Click on the "other" option from the given options.
Once you click on the other option then you can see some options in a dropdown menu.
Again, click on the "Other" option from the dropdown menu.
When you click on the other option. There on the screen you can see a option with the name "contact us".
Click on the "Contact us" option.
Then there will be a popup where you can see two options
One is "Chat" option and another one is "Call now"
Choose the option in which you are comfortable to communicate with customer service.
Once you started the conversation, ask your query as a request that you want to delete Myntra order history.
And they will ask for the valid reason. If the customer service found that your request is valid they will delete the order history, and if they found that it is fake then they will cancel your request.
Conclusion :-
In this article you can find the alternate way to delete your Myntra order history.
The comprehensive record of all purchases done on Myntra using the user's active account is what is known as the order history.
The user's order history is available under the Myntra settings area.
I hope this article on how to delete Myntra order history helps you and the steps and method mentioned above are easy to follow and implement.