How To Delete History In PhonePe
Last Updated : Aug 25, 2022
IN - PhonePe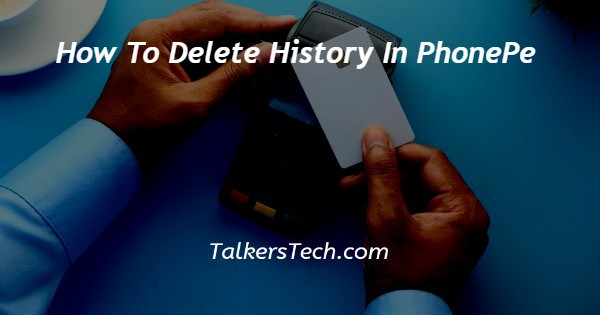 In this article we will show you how to delete history in PhonePe, you can easily delete a specific transaction history in PhonePe on Android as well as Apple devices. Deleting transaction history helps you to secure your daughter in case you do not want other users to keep a tab of the transaction they have made in PhonePe account.
In case you are looking for a solution on how to delete history in PhonePe this is the right Article for you just follow the steps given below in order to delete history on PhonePe.
Step By Step Guide On How To Delete History In PhonePe :-
Using An Official Application On An Android Device
Open the playstore on your android device.
In the search bar type PhonePe.
Now you need to click on the option to install this application on your device. Once the application is successfully installed, click open to proceed further.
Now you need to log in to your PhonePe account by entering your phone number and the four-digit password to proceed further.
After successfully login into your PhonePe account, it will display 5 tabs placed at the bottom of the screen.
These tabs are named home, stores, switch, my money and history.
Tap the option history shown at the bottom right corner of the screen.
Once you click this option it will display a list of all the transactions that you have made in the PhonePe account.
Now you need to search and take the specific transaction that you want to delete in PhonePe.
Now click on the contact support option placed at the bottom of the screen.
On the next screen it will display a chat window where you need to specify that you want to delete the history of this transaction due to do some reason.
After entering the reason for which you want to delete the specific history of the transaction in PhonePe click the option- send placed at the bottom of the screen.
Now a new ticket will be generated for the request of deleting the history on PhonePe.
Next the phone pay customer support officials will immediately contact you within 24 hours in order to confirm the procedure of deleting the history of the specific transaction you have made in PhonePe.
Once the details are verified such as your name ID transaction details your request will be processed and they will remove the history of the transaction from their database.
Conclusion :-
In this article we covered an essential guide on how you can delete history in PhonePe using an official application on an Android device.
I hope this article on how to delete history in PhonePe helps you and the steps and method mentioned above are easy to follow and implement..