How To Delete Google Pay Account
🕐 21 Feb 23
Google Pay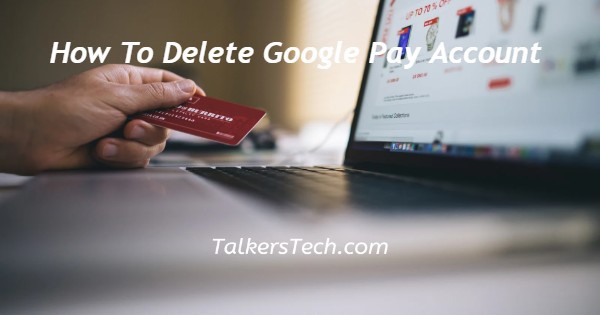 In this article we will show you how to delete Google Pay account, there can be various reasons due to which a user wants to delete their Google Pay account permanently.
The reason can be that the user has switched to another number or has created another account.
Sometimes people also do not like the services offered by Google Pay or some of the specific issues they are dealing with.
In such cases, you can easily delete your Google Pay account by using its official website and application available for Android and IOS users.
In case you are looking for a solution on how to delete Google Pay account this is the right article for you just follow the steps given below in order to delete Google Pay account
Step By Step Guide On How To Delete Google Pay Account :-
Open Google Chrome Browser on your PC or Mac.
Now type Google Pay in the search bar.
Click on the official link of the website of Google Pay to proceed further.
On the homepage of Google Pay make sure you are logged into your account.
In case you are not logged in to your account simply enter your login credentials to proceed further.
On the Google Pay home page you will see various tabs at the top of the screen such as activity, payment methods, subscription and services, addresses and settings.
Click on the setting tab placed at the top right corner of the Google homepage.
On the next screen it will show you Various options for general settings, payment profile, privacy settings, Payment user, Payment profile status and others.
You need to scroll down at the bottom of the setting page.
At the bottom of the page you will see the option clear payment profile under Payment profile status.
Click this option to proceed further.
For verification purposes it will ask you to enter your email address and password.
A popup window will appear on your screen with will ask you to select a reason for closing or deleting your profile.
After selecting the region from the suggestions of deleting of closing your Google Pay profile you need to click the continue option.
Once again you need to type on the auction close payment profile on the next page for confirmation.
Now you will see that your Google Payment account for profile is successfully deleted or removed.
Before deleting your Google account you need to make sure that you leave the Banking information and credit card details open so that you can easily use it in case you want to use your Google Pay account in future.
Conclusion :-
In this article we covered an essential guide on how you can delete Google Pay account on Android device.
I hope this article on how to delete Google Pay account helps you and the steps and method mentioned above are easy to follow and implement.