How To Delete FB Account In FB Lite
Last Updated : Sep 15, 2021
IN - Facebook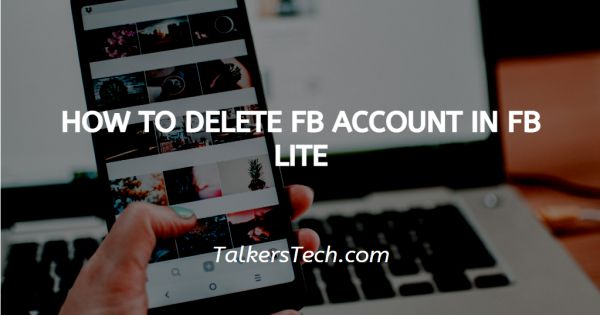 In this article we will show you how to delete FB account in FB lite, Facebook provides to all its users, a wide variety of features and options to make their experience easy and user-friendly. Facebook lite is an even more convenient way to connect with friends quicker.
In this article, we will see how you can permanently delete your Facebook account using the Facebook Lite app.

The procedure is easy and similar to the normal app, follow the steps as explained below and you should be done in no time.
Step By Step Guide On How To Delete FB Account In FB Lite :-
Unlock your mobile phone or wake it up, whatever your settings are for privacy. Open the App drawer where all the apps present in your phone are displayed and organized in an alphabetical manner.
Scroll down to F and click on the 'Facebook Lite' app icon.

This will lead you to the next page. Here, you will be asked to tap on the profile you wish to log in with, or use another account, etc. Tap on the profile being used by you.
You will now be brought to your Facebook feed with all the updates and posts put up by people, groups, communities, etc. you follow on Facebook.
On the top right corner of the screen, you will see the 'Menu' icon (three horizontal lines). Tap on this to open the menu.
Scroll down the options given in the menu of your account and tap on the 'Settings' option.

You will be on the 'Settings and Privacy' page. Here, you will be able to view various options organized under broader headings or categories.
Click on the 'Personal and account information' option under the 'Account' heading.

This will further lead you to another page. Choose the 'Account ownership and Control' option. Tap on the 'Edit' icon located to the right of the option.

Next, you will see two options to choose from. Click on the second option, that is, 'Deactivation and Deletion'.

Read the information provided under each option. Check against the second option 'Delete Account' in the small circle on the left side of the option.
Once you are done, click on the 'Continue' icon.

You will now have to choose the appropriate reason for deleting your account on Facebook and then click on the 'Continue to account deletion' icon at the bottom of the page.

The next page will also provide you with several options and what all will you lose once you delete your account permanently. Scroll down to click on the 'Delete account' icon.

Lastly, you will be asked to enter your Facebook password to verify the action. Enter the password and click on the 'Continue' icon.

Voila! You are done.
Conclusion :-
Follow these easy steps to delete your account permanently. I hope this article on how to delete FB account in FB lite helps you.