How To Delete Facebook Account Without Password
🕐 1 Jul 23
Facebook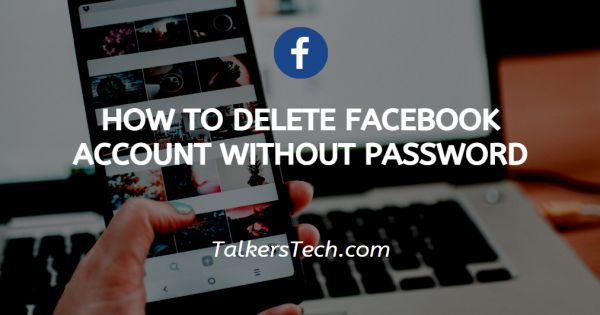 In this article we will show you how to delete Facebook account without password, It is possible to remove a Facebook account without logging in if you have forgotten your old Facebook login details and have also misplaced your former phone number, you may still check in and cancel your account.
Facebook is a website, and all of your page's information is stored on Facebook servers in massive data centres. It is not saved on your computer or phone; rather, it is accessed via the internet.

Here are the methods you can take to try to regain account access so you can permanently delete your account as well as any connected undesired former memories.
Step By Step Guide On How To Delete Facebook Account Without Password :-
Method 1 - Recover Your Login Password
Log on to facebook.com using your browser if you don't recall your old Facebook account username, just use the one you do remember, and then type a password you can remember.

To change or recover your password, go to "Change or Recover Password". Enter the phone number you used to register for the account.

You will receive an SMS with several digits. Copy the number and paste it in the designated area. Now modify the password to something you like, and you're ready to go. It is advisable to not share the digits with anyone to avoid theft.
Method 2 - Report Your Account As Fake
Another approach to remove a Facebook account without logging in is to use this method. How do you accomplish it just by reporting your old account as fake
Go to your own profile but some else's account or your new account.
On the bottom right of your cover photo, click the three dot signs. Click on "Find support or report profile"

Click on the option "Pretending to be someone". It is the first option in the drop down menu.

Click option of "me" to delete the account. This is the most feasible option.

All you have to do is submit now.
That is all there is to it. This one is simple and straightforward, but that is not all. We already told you that there are several ways to delete your account, and here's another one.
Conclusion :-
There are a number of ways in which you can delete your account even if you don't remember your password.

It is quite handy to either recover a password or report is as a fake account to delete the account or to re gain the access of the account and then delete it.

Facebook asks the reason to delete and also asks if the user wants to delete it permanently or just temporarily.

To remove it temporarily, Facebook saves your login info in your device.

Whenever, the user wishes to re-login they can and would not have worry about remembering the login information. I hope this article on how to delete Facebook account without password helps you.