How To Delete Borders In Google Docs
Last Updated : Nov 6, 2021
IN - Google Docs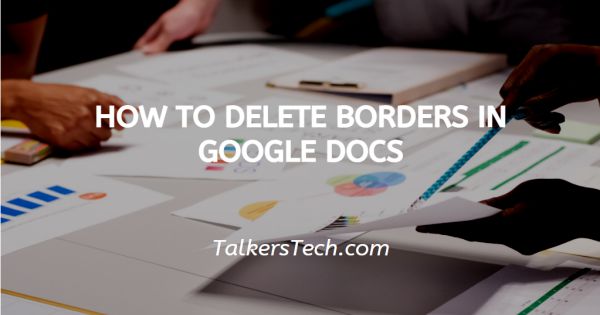 In this article we will show you how to delete borders in google docs, Google Docs is one of the best tools to create and share documents. It is one of the most popular applications provided by Google.
It provides an enormous range of formatting capability. support all the features of inserting, editing and organizing and help you convey your message in a more effective manner. Most of the formatting options provided by Google Docs are easy to use.

Some options are tricky in Google Docs you can easily form a table but removing table borders can be tricky. Deleting borders in your specific document is a brilliant method for formatting your text.

It helps you to show your text in a presentable manner that would have required Complex document settings.
Step By Step Guide On How To Delete Borders In Google Docs :-
Writing text in Google Docs with the help of a table without borders is a better option than using Complex settings of formatting.
In order to create a table press insert in the menu placed at the top left corner of your screen.
Google docs provide you various options once you click insert. The options available are image, table, Drawing, Chart horizontal line, footnote, Templates, special character, Equation, watermark, Headers and footers, page number, Break link and comment.
Among these options, click on the table. A pop-up menu will appear that helps you to set the dimensions of your table.
Enter the number of columns and rows that you want in your table and press confirm.

Now a table will appear on your screen with black borders in your document.

Under the format menu, the option of table only helps you with adjusting or deleting rows and columns for the entire table. There is also the option of table properties.
You can easily identify this option once you right click on the table. The context menu will show you all the options along with table properties.

With the help of table properties you can easily change the colour and thickness of your table displayed in your document.
Most of the users try to delete the borders by setting the colour of the border to White. this is not the best practice to follow.
Instead of changing the colour of the border you can simply modify the thickness of the border to 0 pt. When you change the thickness by 0 pt. It will completely delete your borders off the table.

In case you want to undo the changes regarding the thickness of your border you can simply change the thickness of your Border by using any other value. The default value is 1.
Conclusion :-
I hope this article on how to delete borders in google docs helps you in this article we covered an essential guide on how you can delete borders in Google Docs to make your text more presentable. The instructions given below are very simple and easy to follow.