How To Delete An Old Twitter Account You Cannot Access
Last Updated : Nov 22, 2021
IN - Twitter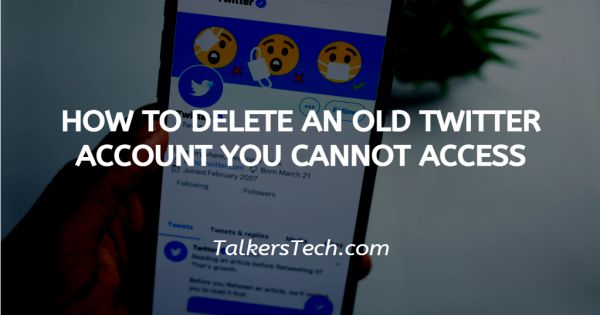 In this article we will show you how to delete an old twitter account you cannot access, It's a good Idea to delete the account when you stop using it, It will mean your content will no longer be available online.
Deleting your account will also prevent the possible hacking and no one will be able to impersonate you. deleting an inaccessible account can be really tough, there is no fixed solution for this but in this article we will try to guide you through the possible ways that may help.

There are three possible ways you can delete your old account, these ways do not guarantee successful results but trust me they are your best chance. Let's see what are they!
Step By Step Guide On How To Delete An Old Twitter Account You Cannot Access :-
Method 1
You can try the hit and trial method, which is nothing but to guess the email address or phone number you entered when you were creating the account.

If somehow you have guessed the right phone number or email and do not remember the password then click on the forgot password link and enter the OTP sent to your phone number or email or change it through the link sent to you.

Follow the steps given below to delete your account once you have gained access and If you still have not found the right email or phone number then skip to the next trick.
Login to your old account using the email or phone number and the new password you have just created
On the top left corner there will be a profile button with your profile picture on it. Tap on it and scroll down to find Settings and privacy

After clicking on settings and privacy, you will find Account in the next page, tap on it and scroll down in the next page to find Deactivate your account. Now all you have to do is to enter your password and the account will be permanently deleted in 30 days.
Note- If you change your mind and don't want to delete your account then make sure you reactivate it before 30 days otherwise there is no coming back.
Method 2
So if you don't remember any of your login details then you can take help from Twitter support. You will need your friends account or any other account, after logging in, go to Twitter.com support and request that your old account is no longer in use and It should be deleted from the platform.

You will need to supply them some details to prove that you are the owner of the account. Once you do this, confirm that your account should be deleted.

If everything goes well your account will be deleted. And if not? Don't worry there's still one Arrow left in our quiver!
Method 3
Let us introduce you to our masterstroke, assuming that every other way has failed to help you get rid of your old account.

You will have to create a new account impersonating the previous one this means that you will have to enter all the same details as the previous ones like same profile picture, same Bio, same location etc.

Once you have successfully created the clone account, Go to the profile of your old account and tap on the three vertical dots in the top right corner a pop-up menu will appear, in the end of the menu there will be an option to "Report", tap on it and report the account by clicking on "They're pretending to be me or someone else".

Ask all your friends to report the account, after the account getting reported many times Twitter will automatically delete the account.
Conclusion :-
In this article we showed you how to delete your old account which is inaccessible , we hope you'll be able to delete your by following the given. We are glad you chose us to get answer to your query. I hope this article on how to delete an old twitter account you cannot access helps you.