How To Delete All Facebook Messages At Once On Android
🕐 1 Jul 23
Facebook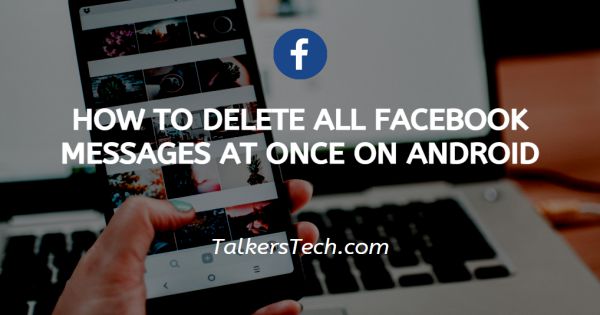 In this article we will show you how to delete all Facebook messages at once on android, in today's world, practically everyone has a Facebook account. He/she uses the app, checks notifications, and checks messages and other related information on his/her Facebook account on a regular basis.
Whether its memes, jokes made amongst friends, or old discussions from prior relationships, Facebook messages store a lot of secrets about everyone's life. As a result, it has become a popular app for both iPhone and Android users.

Delete all those messages at once is easier than removing all Facebook messages. How do you erase multiple Facebook Messenger messages from your device?
Step By Step Guide On How To Delete All Facebook Messages At Once On Android :-
Open your messenger app and search for the message you wish to delete using the search function.

Next, prolong your touch till a new screen appears. Copy text, forward, delete, and other actions are available on this screen.

Select Delete, and your message will be removed from your Messenger app's history. Double check the conversation before pressing the delete button. Once gone, the user will not be able to recover the conversation.

Repeat the previous steps with the other messages.
Instead of deleting all of your communications completely and permanently, you might choose to archive them first. This allows you to hide the texts you want to save. Keep in mind that the actions below will also delete those messages.

If you absolutely want to remove all of your Facebook conversation talks, take these steps:
Use a browser to log in. This can be done while using the mobile also. The user just needs to switch to a desktop site to have the same user experience.
Go to the messages/chats/conversation section.
Click the action symbol in the upper right corner of the list.
Select 'delete selected' from the drop-down menu.
You'll find a delete button next to each message.
Delete the selected/related message by clicking on it.
Find the chat you wish to erase and delete it. Swipe left and tap the erase button.
It's a lot easier than it appears to permanently delete such private messages
Some Other Ways :-
Extensions are add-ons for your web browser that allow you to do specific tasks on a website. You'll need to add an extension to your web browser to remove many or all of your Facebook chat history. Start by searching for the Web Store on Google, whether you're using Chrome, Firefox, or Internet Explorer.
For instance, in Chrome, search for "Facebook Messenger mass delete extension" or anything similar. Chrome.google.com is one of the most popular alternatives. This is the browser's online store.
After clicking "Install," you'll be directed through a series of pop-ups until the extension is installed. The icon will appear in the upper right-hand corner of your browser.
Conclusion :-
There are several easy and handy ways to delete messages. However, before considering deleting, the user should carefully examine and analyse the impact of this action.

Once gone will not be returned and by deleting mass messages, one can accidently delete important conversations which can prove fatal. I hope this article on how to delete all Facebook messages at once on android helps you.