How To Delete All Comments In Word
🕐 9 Apr 23
Microsoft Word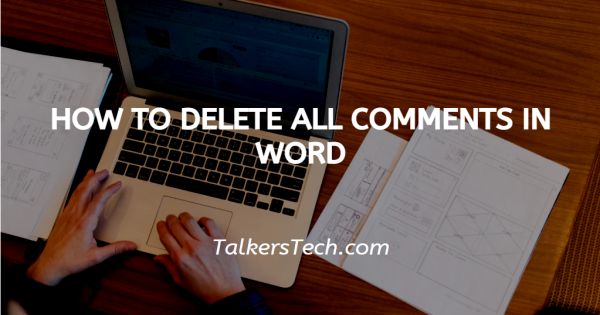 In this article we will show you how to delete all comments in word, MS Word is a tool used by people all across the globe to create documents, assignments, files, etc. It has a wide range of features that allow its users to create documents that are holistic, attractive and wholesome.
One of the most interesting and useful features of Word is that it allows users to add comments to any part of the document.

This is extremely beneficial, especially when a single document is being edited and created by two or more people.

The comments help the other people understand where corrections or changes have to be made in the document and help improve the final output.

But once the edit has been made, you might wish to delete these comments. Let us see how this can be done. Follow the steps as explained below.
Step By Step Guide On How To Delete All Comments In Word :-
From the Microsoft office, click on the 'MS Word' tool.

You can either open the document from the location where the document is saved on your device or open it by clicking on 'File' tab located at the top left corner of the page.
As soon as you open the tab, click on the 'Open' option and click on the document in which you wish to delete the comments.

Now from the ribbon at the top of the screen, click on the 'Review' option.
Click on the downward arrow next to the 'Show markup' icon and from the list that opens, click on the 'Comments' options. This will uncheck the comments and hide them.

Another way you can use to delete all the comments, in the Review tab itself, click on the 'Delete' icon.
As soon as you do this, a dropdown list will open before you on the screen.
Here, you will have two options. These are as stated below - Delete all comments shown and Delete all comments in document
Click on the option that suits you better, in order to delete all the comments in one go, choose the second option.
As soon as you do this, you will automatically delete all the comments added to the document by you, or any other user.
Conclusion :-
This is how you can easily delete the comments in your document quickly and without any delay. I hope this article on how to delete all comments in word helps you and the steps and methods mentioned above are easy to follow.