How To Delete Account In Telegram
Last Updated : Oct 3, 2022
IN - Telegram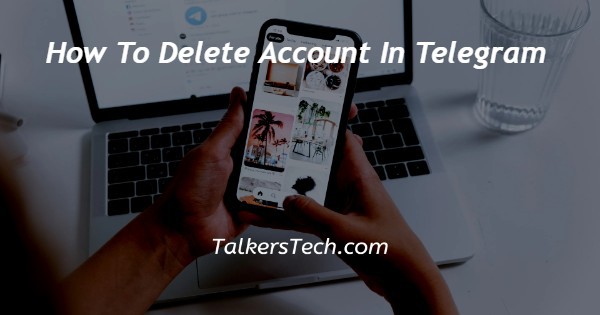 In this article we will show you the solution of how to delete account in Telegram, Telegram does not provide any direct option for the mobile user to delete their account.
However you can opt for the deactivation process which include the self-destruct option on the official application of Telegram available for Android and iOS users.
With the self destruct option you can easily choose the time frame with which you want your account to get deleted.
In case you are looking for a solution on how to delete account in Telegram this is a write article for you just follow the steps given below in order to delete account in telegram
Step By Step Guide On How To Delete Account In Telegram :-
On Temporary Basis
Open telegram desktop on your computer.
In case you are not log into your account simply enter your mobile number, country and one time password.
Another way of opening your Telegram account is scanning through Telegram mobile.
Tap the three horizontal line placed at the top left corner of the screen.
The left side menu of the telegram will show you various option such as contact, call, settings, New group, new channel, saved messages and night mode.
Click The option settings.
On the next screen it will show you various options- Edit profile, folders, advanced, call settings, language , Notification and sound, privacy and security, folders and others.
Under privacy and security you will see various option for privacy and security.
You need to scroll down through privacy and security page.
Under this you will see various options for new chat from unknown user, bots and website, contact, secret chat, delete my account and others.
Scroll down and search for the option delete my account.
When you click this option you will see that it informed that if you do not come online at least once within the selected time frame then your Telegram account will be deleted.
Now you need to select the time frame after which you want your Telegram account to be deleted.
When you click the time frame option A popup box will appear on your screen which will show you the time frame that you can select for deleting your account in telegram.
The timeframe for deleting account in Telegram start from 1 to 12 months.
By default Telegram is set to delete your account to 6 months.
Once you select the time frame kit the option save placed at the bottom of the popup box.
Now if you do not use Telegram application for the contacts and messages.
Conclusion :-
In this article we covered an essential guide on how you can delete account in Telegram on a temporary basis.
I hope this article on how to delete account in telegram helps you and the steps and method mentioned above are easy to follow and implement.