How To Deactivate Paytm Postpaid
Last Updated : Sep 22, 2022
IN - Paytm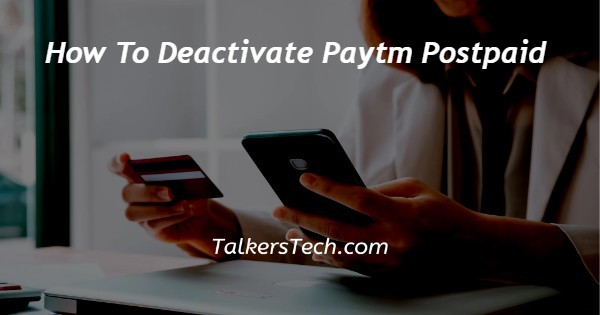 In this article we will show you the solution of how to deactivate Paytm postpaid, Paytm provide its users a limit of upto 60000 on the post-paid service. This amount can be utilized to pay the bills and buy goods along with recharging your Paytm.
In case you want to deactivate your postpaid account on Paytm you must remember to transfer your balance from your Paytm account and also it will unlink your phone number.
In case you are looking for a solution on how to deactivate Paytm postpaid, this is the right article for you just follow the steps given below in order to deactivate Paytm postpaid
Step By Step Guide On How To Deactivate Paytm Postpaid :-
Open Google Play Store on your Android device.
In the search bar type Paytm
Now you need to install this application on your device.
Once installed successfully you need to enter your login details to proceed further.
After successfully login to your account you will see the home page in front of you.
Click the profile icon placed at the top left corner of the screen.
A detailed menu will appear on the new screen, showing various options such as order and bookings, digilocker, cashback, profile settings, 24/7 help support, and Paytm postpaid.
Below the services, you will also see other options such as popular help topics and contact 24/7 help.
You need to click the option contact 24/7 help in order to contact directly with the executive to help to resolve your problem.
When you click this option on the next screen you will see various categories through which you can ask for help such as Bank wallet and Paytm, movie tickets and event, travel and hotels, Paytm mall shopping orders, recharge and bill payment, gold, insurance, credit score, and others
Now in order to deactivate Paytm postpaid, you need to look at the option Bank wallet and Paytm.
In this option, you will see two categories one is the mobile number and the second option is message us.
You can directly call the number 0120 4456 456.
An executive will pick up your call.
Now you need to tell the Paytm executive that you wish to delete or deactivate your Paytm post-paid account.
The Paytm executive will ask you to state your reason for deactivating the Paytm postpaid account.
After sizing your reason your postpaid account on Paytm will shortly deactivate.
Conclusion :-
In this article, we covered an essential guide on how you can deactivate Paytm postpaid on your Android device.
I hope this article on how to deactivate Paytm postpaid helps you and the steps and method mentioned above are easy to follow and implement.