How To Deactivate FB Account In PC
🕐 1 Jul 23
Facebook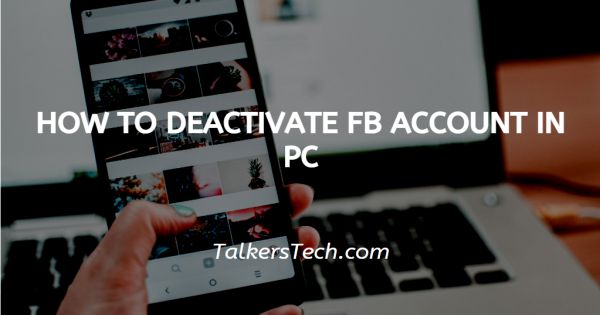 In this article we will show you how to deactivate FB account in PC, It is as easy to leave one of the most popular websites as it is to join it. Facebook is one of the most well-connected social media platforms where you can find your friends, follow celebrities, show case your talents and what not; the list seems to be endless.
Sometimes we might need to cut off all social media but not wish to permanently delete our Facebook account.

Here comes in the feature of being able to deactivate your Facebook account for a while. This does not delete and wash off all your data, rather makes your account look inactive.

Let us now see how you can deactivate your Facebook account while accessing it on the PC or laptop.
Step By Step Guide On How To Deactivate FB Account In PC :-
Log into your Facebook account using your personal details and password set up by you. You can also log in using your mobile number.

You will be able to view the Facebook feed page where you see all the posts updates by your friends and family.
On the top right side, you will see the 'Account' icon (downward arrow). Tap on this button to get access to your account details and setting.

Now, select the 'Settings and Privacy icon from the list.

Further in the next list, tap on the 'Settings' option.

This will open the Settings of your Facebook account. On the left side of the screen, you will see a menu panel. Select the 'Your Facebook Information' icon and tap on it.

This will bring you to the next page. Here you will see information organized in various different categories. Scroll down to the bottom and click on the 'View' button located at the right side of the 'Deactivation and Deletion' icon.

From the expanded list of options to choose from, select the first option and check against it in the circle. Once you are done, click on the 'Continue to Account deactivation' button at the right side bottom.

In the next step, you will be prompted to re-enter the password linked to your Facebook account. The main reason behind this is to verify the actions or changes made to your account settings.
Enter the password set by you and then click on the 'Continue' icon.

With this last click, you will successfully deactivate your Facebook account.
You can re-activate it whenever you wish to.
Conclusion :-
I hope this article on how to deactivate FB account in PC helps you. Follow the quick steps as explained above and your work should be done in minutes!