How To Deactivate Facebook Account On Android App
🕐 1 Jul 23
Facebook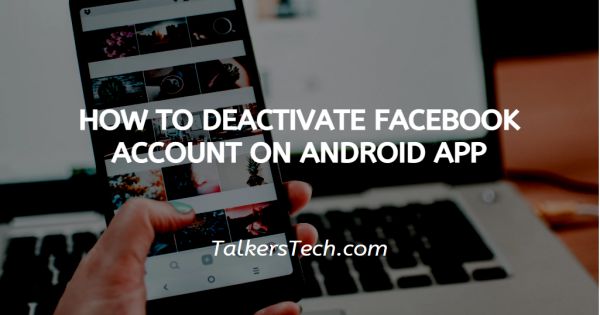 In this article we will show you how to deactivate Facebook account on android app, Facebook is one of the most popular social platforms. It is used my millions of people around the world. It is really helpful in connecting with friends and family especially in the time of this pandemic but it can also be really distracting sometimes.
Facebook is designed to keep us coming back again and again. If you feel like you're spending more time on Facebook and want to take a break then deactivating your account might just be the right option for you. It can help you to "Detox"

Facebook just like every other social media platform has an option to deactivate the account. It allows the users to temporarily deactivate their account, You can reactivate it whenever you want. This will mean you can access your photos, videos, friends and groups again.

What happens when you deactivate your account?
No one can see your profile, timeline or find your account in a search.
The private messages you sent to your friends will still be visible
The pages only you control will also be deactivated, that means people will not be able to find your page on Facebook. In case you don't want your page to be deactivated then you will have to give someone else the full control of your page by making them the admin.
You can still chat with your friends on Messenger
Step By Step Guide On How To Deactivate Facebook Account On Android App :-
Unlock your device and open app tray and click on Facebook icon on your Mobile phone.

You'll be taken to your feed. On the top right corner of your feed you'll see a icon, tap on it and you'll be taken to your main profile.

Scroll down on your profile and press on the settings and privacy option

After clicking on settings you'll see a Personal and account information option under the account section, Tap on it and it will take you to your account information page

Tap on Account ownership and control in the Account information page

Now you have to click on deactivation and Deletion and then choose to deactivate. You'll be able to deactivate your account by entering the password.

If you wish to reactivate your account after you have deactivated You can reactivate your account any time by entering your login Id and password on the login page.
Conclusion :-
I hope this article on how to deactivate Facebook account on android app helps you to conveniently deactivate your account. The steps are easy and simple if you'll follow them you will definitely be able to deactivate your account.