How To Deactivate Facebook Account In App
🕐 1 Jul 23
facebook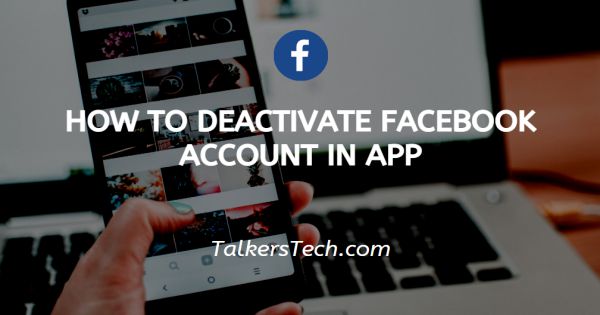 In this article we will show you how to deactivate Facebook account in app, Facebook is a great platform for your social life and is user friendly. You can stay connected with people around the world and view what they are doing in their lives.
It is not hard for others to do the same if they are given the access to view your account. It is a fun platform for people of all age groups and everyone has the right to stay connected.

But sometimes this same platform can be really distracting when you have to focus on something crucial.

Let's think about the kid who has got their final exams on his/her way but that same kid invests most of his time Facebook then his/her studies to clear and score great marks in the exams.

The only way to focus on studies and stay away from distraction is to delete their Facebook account. These days' kids have phones with them and they don't really prefer working or googling on laptops.
Step By Step Guide On How To Deactivate Facebook Account In App :-
Go to your Facebook app and log in with your email ID and password.

Click on the Menu icon and scroll down to "Privacy and Settings"

Click on "Privacy shortcuts" under the option of setting and privacy.

Scroll down the page to "Your Facebook Information" and click on "Delete your account and information" option.

Two options will appear in front of you. First will be to "Deactivate account" to disable it temporarily and second will of "Delete Account" to delete your account permanently. You're supposed to click on the first option of "Deactivate Account".

Click on the blue option to delete your account "Continue to Account Deactivation"
Conclusion :-
In order to deactivate your account for temporary basis follow the steps given above and deactivate it.

This is high time to focus on what you need to do instead of scrolling through Facebook.

Facebook will be a great platform to announce your achievement once you are successful in it.

Let you relatives and friends know about your success through Facebook but till then deactivate it for your own good. I hope this article on how to deactivate Facebook account in app helps you.