How To Create A Subfolder In Google Drive
🕐 1 Jul 23
Google Drive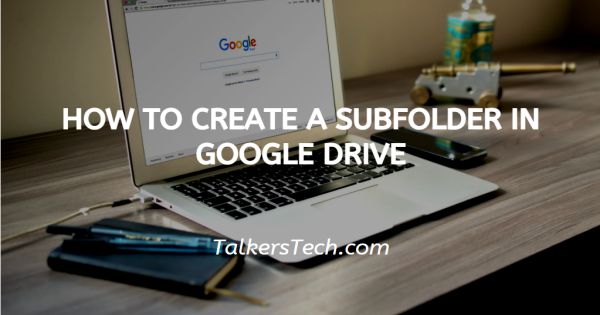 In this article we will show you how to create a subfolder in google drive, you can easily create a folder within another folder. You can create multiple sub-folders in the main folder.
In order to avoid confusion, you can also distinguish the sub-folders by changing their color.
Step By Step Guide On How To Create A Subfolder In Google Drive :-
Open the application in your web browser or any other device. Make sure you are logged into your account using a valid email id and password.
After logging into your Google Drive account the home page of Google Drive will appear on your screen. The home page will show all the documents and folders stored in your account.
You can also search for a specific folder by typing its name in the search bar at the top of the homepage of your Google Drive account. Google Drive also lets you search your folder according to name owner and Last modified by.

Select the folder where you want to create a subfolder in Google Drive.
Double-tap the main folder and you will see all the files stored in your existing folder.
If you want to create a sub-folder in the existing folder simply right click On the screen.
A drop-down menu will appear on your screen to show various options such as New folder, upload files, Google docs, Google Sheets, Google Slides, Google forms and more.

Click the option of a new folder. You can also create a sub-folder by clicking the option of New placed under the logo of the drive application. This option appears on the top left corner of your screen.

Now you need to type the title name for your newly created sub-folder in Google Drive. in case you do not enter any title for the sub-folder, it appears as an untitled document in your Google Drive account.
As you can see in the picture given below, a new folder is created with the title of Subfolder under The main folder named as 30 Oct.

You can also change the colour of the newly created sub-folder. right-click the subfolder and pick the colour you want for the newly created sub-folder.
Conclusion :-
I hope this article on how to create a subfolder in google drive helps you in this article, we covered an essential guide the steps mentioned above are quite detailed and easy to follow.

After creating the sub-folder in Google Drive you can easily locate this folder by entering a keyword in the search bar. After creating a sub-folder you can also change its color and rename it at your own convenience.