How To Create A Group In Messenger
Last Updated : Nov 8, 2021
IN - Messenger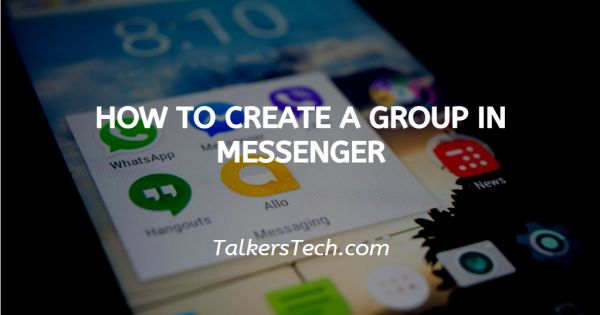 In this article we will show you how to create a group in messenger, Facebook Messenger is a free instant messaging app owned and developed by Facebook which is used for instant messaging, sharing photos, videos, audio recordings and for group chats.
This app is totally free to download and you can use it to communicate with your friends on Facebook and with your phone contacts.

It also supports and provides facilities of voice and video calling to its users. You can use multiple accounts on Messenger. It provides the facility of Money transfer 'Messenger pay'.

Creating a group on messenger gives you many benefits. Group chat is beneficial in many ways.

Group chat allows many of the decision points that might have required a meeting to be resolved remotely.

You can share any information with your circle whenever you want. When text isn't enough, group conversations can pull in videos and images to improve the flow of information.

If you are a Facebook user and looking for a technique to create a Group on Messenger, which can help you to communicate more easily, this article is for you.
Step By Step Guide On How To Create A Group In Messenger :-
In this article, I will guide you on the way to create a group on Messenger through the following steps. So, Focus on the following steps.
Open Google Play Store on your Smartphone to download Facebook Messenger.

Now, in the search bar of Google Play store, type 'Messenger' and tap on the search button as shown in the screenshot given below.

When the search results appear, Click on the 'Install' button as given in the screenshot.

When the download is completed successfully, tap on 'Open' to open the Application or you can also open it from the app list from the home screen of your smartphone.

Now, enter Phone number or Email address and Password and tap on 'Login' or you can also create an account if you don't have an account already as shown in the screenshot given below.

Then, you will get an interface as shown below. Tap on 'Turn On' or 'Not now' according to your needs and choice.

Now, If you want to receive SMS in Messenger then tap on 'OK' otherwise tap on 'Not now' as shown in the screenshot given below.

Now, tap on the 'Pen-like' icon which is on the top-right corner of your screen. You can see it in the screenshot.

Then, click on the 'Create a new group' section.

Now, select the friends whom you want to add to the new group as shown in the screenshot given below. You can select as many people as you want to add.

After selecting or choosing friends, tap on the 'Next' button which is on the top-right corner of the screen as shown in the screenshot.

Now, give a suitable name to the group and then click on 'Create'. And now your group is ready to Chat.
Conclusion :-
So guys, these were the very simple and easy steps through which you can create a group on Facebook Messenger. I hope this article on how to create a group in messenger helps you.