How To Create A Folder In Google Drive
🕐 1 Jul 23
Google Drive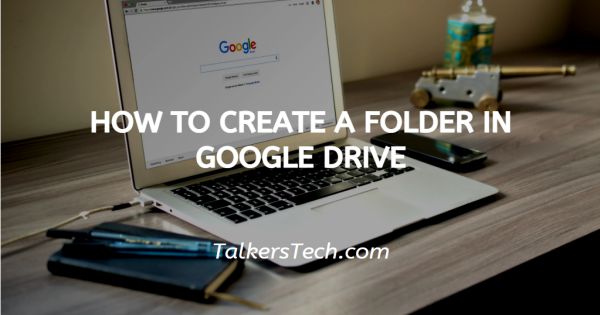 In this article we will show you how to create a folder in google drive, Google Drive is one of the most popular applications for uploading huge amounts of files which include photo audio-video and other important data.
Google Drive secures your data and also allows you to share the files with others in order to collaborate or send suggestions.

Google Drive also has various formatting tools for keeping your document organized and looking more presentable. Google Drive includes various other software programs like Google docs, Google Sheets, and Google slide.

You can use this program in order to create and delete and organize files.
Step By Step Guide On How To Create A Folder In Google Drive :-
Open Google Drive on your device and sign in to your account. In case you are not logged in to your account simply enter your email id along with your password.
Make sure you have a stable internet connection in order to create a folder in Google Drive.
After logging in to your account a Google Drive home page will appear on your screen. The main page of Google Drive will show you all the files and folders that are stored on your account.
In order to create a new folder click the option of new placed at the top left corner of your screen in the browser. The option is visible below the logo of Google drive as shown in the picture given below.

The New drop-down menu shows you Various options like a folder, file upload, folder upload, Google docs, Google Sheets, Google Slides, Google forms, and more.
Among all the options provided by the new drop-down menu, click the option of folder placed at the top of the menu.

In case you already have a folder stored in your account you can also select the option of folder upload.
A pop-up will appear on your screen asking to write a name for the folder. By default, the title appears as an untitled document. Enter the title that you want to give to your newly created folder.
Click create after writing your title for the folder.

The newly created folder appears in My Drive. You can also find your folder by typing the name in the search bar placed at the top of the screen.

In this newly created folder, you can upload the files by dragging and dropping them into the window from your device and right-click on the screen.

For uploading, you can simply click on the option of upload files.
Conclusion :-
I hope this article on how to create a folder in google drive helps you. In this article, we covered an essential guide. Keeping all your data organized in folders help you find it easily when required. The steps mentioned above are quite detailed and easy-to-follow.