How To Convert Gaana Downloaded Songs To Mp3
🕐 1 Jul 23
Gaana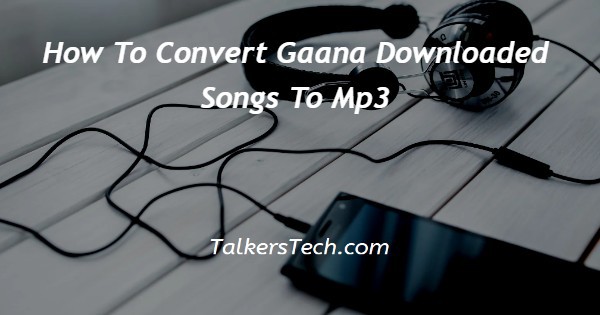 In this article we will show you how to convert gaana downloaded songs to mp3, you can also download any song of your choice on the gaana.
But make sure that you are a premium member of the Gaana or else you will not be able to download any song.
But if you want to convert any downloaded song from the gaana then let me tell you one thing you cannot ever convert gaana songs to MP3 from the app itself.
Even if you cannot convert downloaded songs from the gaana, you will be able to record it and also save it which you can listen to later.
You will need to use a third party software to record songs from the gaana.
To enjoy recorded songs from the gana you have to download a software on your PC.
To know more about the software and the steps you will have to continue reading this article and perform all the steps as it is shown.
Step By Step Guide On How To Convert Gaana Downloaded Songs To Mp3 :-
Download and install the VideoPower YELLOW software.
Launch the software on your PC.
At the bottom of your screen under the record function you will have to click on the format icon from there.
A file of supported format options will appear on your screen as a drop down box.
From where you will have to select the option which says 'MP3'.
Under the Record function screen, you will find another option.
Click on the 'Record' button to begin your recording (this option you will find under the record function screen).
Then instantly, open any one of the browsers from your PC.
From there you will have to go to the website of the Gaana.
Play any music which you want to record.
Make sure your background must be noise free for best results.
Wait until the music ends properly.
When the music will stop then you will have to go back to VideoPower YELLOW software.
From there, you will have to click on the 'Stop' button to stop or end the recording.
Immediately, the software will scan to identify the music which you have recorded through its ID3 Tags Identifier functions.
Once it is recognised, the software will automatically add in the ID3 Tags like album cover art or title, etc.
Then you will have to go to your 'Library'.
You may also right click on the mouse on the recorded file (which you have recorded just now).
It will help you to manage the file.
Then you can also be able to see more options such as Play, Add to Playlist, etc.
Conclusion :-
I hope this article on how to convert gaana downloaded songs to mp3 helps you and the steps and method mentioned above are easy to follow and implement.