How To Compress Video For WhatsApp
🕐 1 Jul 23
Whatsapp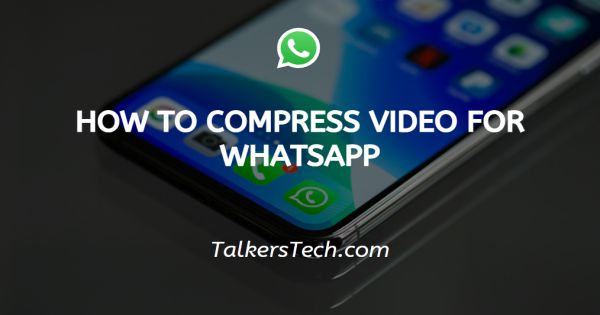 In this article we will show you how to compress video for WhatsApp a lot users face issue when sharing or sending high quality videos over WhatsApp but now here is the solution of sending compressed video over WhatsApp
Step By Step Guide To Compress Video For WhatsApp
Download WhatsApp Video Converter
Download Freemake Video Converter for free from your Windows OS laptop or desktop PC. Windows 10, 8, 7, and Vista versions are supported. Choose the online version of the installation file for a device with a fast Internet connexion. Pick a complete version of the setup file if you want to use the WhatsApp video converter on an offline PC. To instal the freeware on your PC, execute the Freemake setup file.
Complete the loop of installation by pressing the "Next" button all the time. No third-party apps are available for the freeware, so you can be sure that nothing else will be installed on your computer and that your data is safe.
Add Your Video Files
Start the programme and connect your WhatsApp compressed video files by clicking on the "+ Video" button. Alternatively, in the Freemake Video Converter, you can drag-and-drop the files. In a wide variety of formats, the compressor accepts multimedia files: AVI, MKV, WMV, MP3, DVD, 3GP, SWF, FLV, MOV, etc.
Choose A Format
You can now pick the required video extension for your media file. You should use MP4 to convert videos to WhatsApp compatible formats and reduce their file size.

At the bottom of Freemake WhatsApp Converter, press the 'to MP4' format button. If you intend to customise videos for WhatsApp daily, you can add this extension to "Favourites". Click the star sign next to the format button to do that.
Set WhatsApp Parameters
A new window with video settings appears as soon as you select the format. From the drop-down menu ('Mobile quality'), choose the lowest video quality.

Videos that are larger than 16Mb are not sponsored by WhatsApp. Thus, in Freemake Video Converter, you'll need to set this parameter. Right above the 'Convert' button, pay attention to the weight sign. To open the size settings, tap it. Set the final size to a smaller one or 16Mb.
Choose a smaller video resolution and bitrate cap to match the required parameters if the video is too large for such a size and the minimum suggested by Freemake Video Converter is higher. The freeware will immediately count and do the compressing.
Finally, to convert and compress the video for WhatsApp, click the 'Convert' button
Move the video files to your computer when the compression is completed, and share them through WhatsApp. Alternatively, you can open a version of WhatsApp for the web or laptop and send your compressed videos from a PC.
Conclusion :-
I hope this article on how to compress video for WhatsApp helps you and now you can easily send or share all your videos on WhatsApp without any issue.